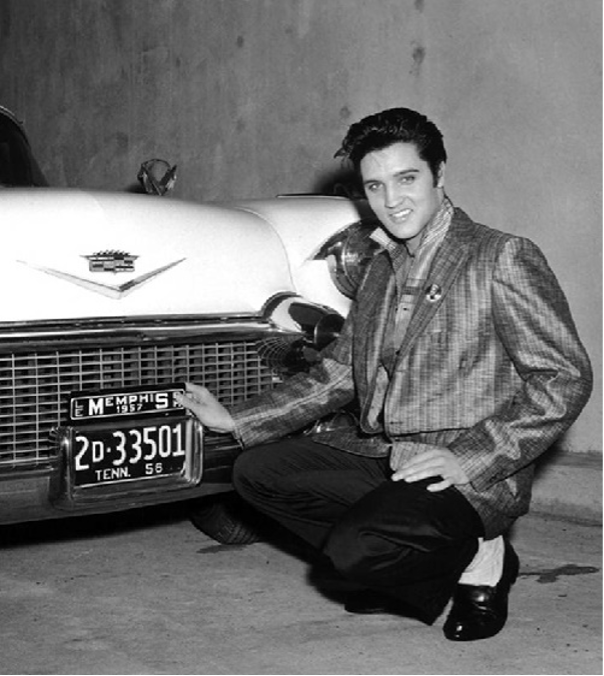 ALL THE KING'S CARS: THE MOST VALUABLE ELVIS VEHICLES
Elvis Presley had a life-long love affair with automobiles, owning everything from pink Cadillacs to black Limousines. Here are a few of the most valuable examples to have crossed the auction block in recent years...
1961 Cadillac Coupe De Ville
(Image: H&H Auctions)
When Elvis returned from his military service in Germany, he lent his pink 1955 Cadillac Fleetwood Series 60 to his army buddy Joe Esposito and bought himself a new ride to replace it – this 1961 Cadillac Coupe de Ville, finished in white with a salmon pink roof. Then in 1965 he gave the car as a Christmas present to Marty Lacker, his best man and member of the 'Memphis Mafia' – just one of the many cars Elvis gave away to friends during his lifetime.
The car later spent years on display as part of the Yorkshire Car Collection, first started by English enthusiast Peter Black in 1959, before being sold by H&H Auctions in 2006 for £21,000 ($39,235).
1977 Cadillac Seville
(Image: Graceland Auctions)
Elvis bought this two tone maroon and silver Cadillac Seville in December 1976, as a gift for his father Vernon. However, Presley Senior had no use for the car it was later given to Elvis' then-fiance Ginger Alden, who spent nine months together with Elvis before his untimely death in August 1977.
Decades later, the car was acquired by Australian entertainer Greg Page, former member of the multi-million selling children's music group The Wiggles. At the time Page owned the world's fourth-largest collection of Elvis memorabilia, and had recorded solo projects backed by Presley's original TCB Band.
In 2008 Page donated his entire collection to an Elvis-themed museum in Parkes, New South Wales, and in 2014 the car – dubbed "Elvis' last Cadillac" – sold during an auction at Graceland for $81,250. It was purchased by English collector Suzannah Horn, and is currently on loan to the Beaulieu Museum.
1967 Cadillac Coupe De Ville 2 Door Coupe
(Image: Barrett-Jackson)
Elvis bought this red 1967 Cadillac Coupe De Ville 2 door Coupe on September 15, 1967, just a few months after his marriage to Priscilla on May 1. The newlywed couple then took the car to Elvis's 163-acre Circle G ranch in Mississippi, where they spent some of their honeymoon, and were often seen driving it around together in Memphis – leading fans to name it the "Honeymoon Cadillac".
In 1979 the car was acquired by Elvis fan Mike L. Moon, and it spent many years on display at the Elvis Presley Museums in Pigeon Forge, Tennessee and Niagara Falls, Canada. In 2014 the car was sold alongside copies of its original paperwork at a Barrett-Jackson auction for $88,000.
1970 Mercedes-Benz 600 Saloon Limousine
(Image: Bonhams)
In 1970 Elvis obtained two Mercedes-Benz 600 Saloon Limousines, in a rare breakaway from his usual taste for American cars. One was kept for his use in Beverly Hills, California, and the other remained at his home in Memphis, leased from Mercedes-Benz dealer Robertson Motors.
Following Elvis death, the car was returned to Robertson Motors along with a letter of provenance for future drivers from Mercedes-Benz of North America which stated "Your Grand Mercedes 600 was originally leased by Elvis Presley from his dealer Robertson Motors, Memphis, Tennessee." Decades later in 2005, the Memphis dealership sold the car to a British collector who shipped the car to the UK and restored it, before selling it through Bonhams in 2010 for £80,700 (approx. $124,700)
1955 Cadillac Fleetwood 75 Limousine
(Image: Bonhams)
Elvis bought this used 1955 Cadillac Fleetwood 75 Limousine in January 1956, just as his career began to take off on a national level. However, despite having just signed a recording deal with RCA, Elvis still had to have his father Vernon co-sign his $5,000 loan for the car.
Presley then used the car, which he soon repainted from light blue to black, as transport for himself, Scotty Moore, Bill Black and D.J. Fontana as they toured throughout the South. Existing photographs of Elvis and the Limousine show evidence that the band strapped their instruments to its roof rack as they travelled from town to town.
When Elvis moved to Graceland in 1957 he used the car to transport items to his new home, including chickens, ducks, guineas, peacocks and a turkey which he used to stock the grounds. After transporting so many animals the Limousine had to be fumigated, and Elvis decided it was time to buy himself a new car. 
The car then spent years on display at various Elvis museums, before selling at RM Auctions in 2007 for $275,000. In 2012 it was sold again, this time through Bonhams, this time achieving $172,000.
Elvis Presley and J.D. Sumner & The Stamps tour bus
(Image: Julien's)
As a teenager Elvis was a fan of the group The Sunshine Boys, in particular their bass vocalist J.D Sumner, whose singing he idolised after seeing them perform live. Years later in 1971 Elvis hired Sumner, then performing with his own band The Stamps, as backing singers for his live concerts and the group toured and recorded with Presley for the rest of his life.
In 1976 Elvis decided that the Stamps needed a new tour bus in which to follow him around the US, and bought the group this brand-new, state-of-the-art MCI Crusader bus complete with nine sleeping berths, air conditioning, a television and a refrigerator. He even had it personalized inside and out with his own TCB lightning-bolt logo.
Having bought the bus, Elvis decided to take it out for a test drive himself, and was forced to pull off into a nearby field to turn it round before returning to Graceland.
In 2015 the bus, still kitted out in its original TCB regalia from Elvis' last tour, sold at Julien's in Beverly Hills for $268,000.
1963 Rolls-Royce Phantom V Touring Limousine
(Image: Bonhams)
Although Elvis preferred American-made cars, he occasionally bought himself a slice of European luxury – like this 1963 Rolls-Royce Phantom V Touring Limousine. Elvis ordered the car new, and had it built to his specifications, including extras like a Blaupunkt Koln radio, Firestone white wall tires, parking and flashing lights, electric windows to all doors, a microphone and air conditioning.
The car was originally painted dark blue, but was soon repainted light blue to combat a particular problem: whenever Elvis would drive the car to visit his mother, her chickens would peck at their reflections in the shiny finish, and the light blue colour helped hide chips in the paint.
Having used the car for five years whilst living mainly in Los Angeles, Elvis then donated the car to the SHARE charity, who auctioned it in July 1968 for $35,000 to benefit mentally handicapped children.
The car then disappeared off the radar for around 20 years until it was acquired by a British Elvis fan and stored in a private museum. In 2014 the restored car was then placed up for sale through Bonhams, where it sold for $396,000.
1960 Mark V Limousine
(Image: Barrett-Jackson)
In the summer of 1959, during the final months of his military service in Germany, Elvis decided to order himself an early welcome home present in the shape of this 1960 Lincoln Mark V Limousine. The car was sent for an upgrade and customization to the world-famous coachbuilders Hess & Eisenhardt, whose other customers included John F. Kennedy and Queen Elizabeth II, before heading to Memphis.
Elvis was photographed with the car the day he returned home to Graceland, and he spent five years using the car in both Memphis and California. It was reportedly one of Presley's favourite vehicles, and he would often drive it himself instead of remaining in the luxurious passenger seats.
In 1965 Elvis gifted the car to Alan Fortas, member of the Memphis Mafia and head of transportation, before becoming foreman of Presley's ranch in Mississippi. The car remained registered in Fortas' name for 40 years, and was sold for the very first time in 2006 at a Barrett-Jackson auction for $566,500.
'Lisa Marie' and 'Hound Dog II' private planes
(Image: Julien's)
Sometimes cars just wouldn't do for the King. In April 1975 Elvis acquired a Convair 880 Jet from Delta Airlines for a price of $250,000, and then spent a further $350,000 refurbishing it to his exact specifications and colour schemes.
The plane was kitted out with a penthouse bedroom with a queen size bed, an executive bathroom with gold faucets and gold washbasin, a videotape system linked to four televisions, a stereo system with fifty speakers and a conference room. It was also repainted to feature Presley's trademark TCB lightning-bolt logo, and christened the 'Lisa Marie'.
However, whilst he was waiting for the plane to be refurbished he bought another one to tide him over - a Lockheed JetStar named 'Hound Dog II'. Having being retired from active service following Presley's funeral in August 1977, the planes then spent 30 years on display as one of the most popular attractions at Graceland, in a joint agreement with their owners.
In 2014 Graceland announced the end of the agreement, and asked the owners to remove the planes from Presley's former home. The planes were then in a sealed bid auction by Julien's in Beverly Hills, with an estimated value of more than $10 million but a public outcry by Elvis fans saw the sale cancelled.
Lisa Marie then confirmed that Graceland had acquired the planes permanently (for an unknown price), tweeting: "Exciting news:I wanted 2 b the first to tell U: The Planes will remain at Graceland 4 ever! We own them and have fun plans 4 them as well :)"