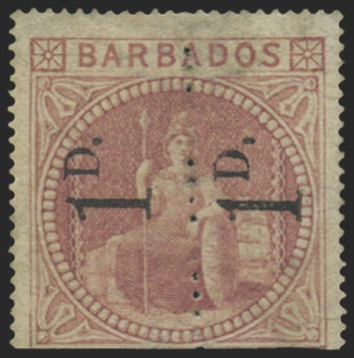 A Rare Jewel of the Caribbean
When two halves make a whole lot more
The world of philately is full of hidden surprises and also some odd practices.
One of the strangest was the use of "bisect" stamps.
Philatelists love to come up with words you've never heard of before!
Allow me to explain the curious circumstances leading to "bisect" stamps… 
In the early days of stamp production, distant members of the British Empire would often have their stamps printed for them in England. They would then need to make sure they ordered enough and were also dependent on shipments arriving on time.
Stocks could run out and there would be a desperate need for supplies whilst waiting for a new delivery.
Postmasters sometimes resorted to using higher denominated stamps, for which there was less demand, and cutting them in half to create two stamps of a lower denomination.
These "half" stamps can be very rare and valuable.
What I have for you today, is even rarer and much, much more valuable.
It is a major rarity of the Caribbean. 
What makes it so rare is on account of it being a bisect stamp, which was never bisected!
It remains whole.
There are only three examples of this major rarity known to exist. 
What's even more exciting is the price…
I am able to offer this at a price representing almost one third of the Stanley Gibbons catalogue value.
It is the first time I have ever handled this curious rarity and it would certainly prove a valuable and astute addition to your collection. 
Here is the Caribbean jewel I have unearthed for you…
Technical description
Barbados 1878 (28 Mar) 1d on half 5s dull rose "Britannia", bisect provisional, horizontal unsevered pair, both with type 3a surcharge (reading upwards), SG86b.
A fine mint example with part original gum (a little disturbed with gum loss at top). Right half with small tear at SE corner and trace of thinning, but the left half fine, and overall fine appearance.
A major British West Indies rarity, with only two other such unused pairs believed to exist.
Provenance: Ex Hodsell Hurlock (H.R. Harmer 18 Jun 1958, lot 551).
Accompanied with a British Philatelic Association (BPA) certificate of authenticity (2017).
The Stanley Gibbons catalogue value is £26,000.
Price: £8,950
The back story
Barbados is the most easterly of the Western Indian islands in the Caribbean Sea. Its name was given by the Portuguese who christened the island "Los Barbados" (the bearded ones) after the aerial roots of the fig trees growing there, which looked like beards.
 The first inhabitants were the tribes of the peaceful Arawaks (Amerindians) and the fierce Caribs, from whom the entire region was named.
The English Captain John Powell arrived in 1625 and claimed the island for King James I of England.
Sugar cane quickly became the island's main value to the British Empire and many slaves were brought from Africa. In subsequent years, Barbados moved towards the formation of an independent society.
Slavery on the island was abolished in 1834. It wasn't until 1865 when America followed suit. 
Regarding stamps, Barbados was different from other British colonies… 
Unlike other colonies, they did not use British stamps as their first stamps. 
The first stamps of Barbados were issued in 1852 with what became known as the Britannia design. These were used until 1878.
The design was based on a watercolour painting by Henry Corbould who also famously provided the sketch from which the penny black was engraved.
The design is considered a classic being both striking and memorable, making it one of the jewels of the Caribbean. 
How the bisect Britannia stamps came about
In March 1878, there was an unexpected shortage of the one-penny stamps. People were falling in love with posting letters at the time.
It is believed the Postmaster under-estimated demand and ran out whilst waiting for the next shipment from England.
But he had a plan… 
There was little need for the 5-shilling stamp, which was only used for heavy postage. 
So, he took a guillotine to that stamp and chopped off the 5-shilling denomination at the bottom. 
He then had it overprinted locally by the West Indian Press, each half with "1d".
Fortunately, there was also a perforating machine locally available, which was used to perforate the stamp down the middle.
That way, the stamp could be cut in half and used as two 1d stamps to meet demand – ingenious!
A total of 9,600 provisional 1d stamps were produced.
Very few of these stamps were posted intact to pay the tuppence rate as there was a 2d stamp still on sale and available for use. 
Bearing in mind the desperate need for the 1d rate at the time, it is no surprise only three mint examples remain in existence today.
It's actually a surprise any survived.
Defining "Fine Quality" when there are only three
You've likely noticed my example of the unsevered bisect Britannia stamp is not perfect… 
There is a very small tear at the bottom of the stamp and a trace of thinning. On the reverse, there is also some gum loss at the top.
Normally, I wouldn't accept such imperfections. 
Yet, I still describe this example as fine quality and with an overall attractive appearance.
And, for good reason.
Let's take a look at the other two known mint examples I have found online…
This one was sold by a major UK auction house two years ago. As you can see it has suffered from severe toning. It was also described as having redistributed toned gum (not a good thing). 
And, the other was sold through auction in the US last year…
I've no idea what has happened to give it this washed out colour. It was also described as only having small part original gum, with faults and overall soiling and toning. Sounds and looks pretty grim.
As you can see, in the context of the condition of its competitors, my example stands out as "fine"!
The one from the Gold Medal Collection
The proof of the quality and desirability of my example is clear… 
It was once part of the Gold Medal winning collection of Barbados belonging to the famous philatelist Horsell Hurlock. 
His collection was eventually sold by H.R. Harmer with this stamp being sold on 18 June 1958. 
Such a major rarity needs a prestigious independent certificate of authenticity and here it is…
Available at almost one third of catalogue value
The current SG catalogue value for a mint example of the Barbados 1878 1d "Britannia" unsevered bisect stamp is £26,000.
There are only three in the world and my example looks the finest of them all.
There is also comparable evidence to support the current SG catalogue value. 
Another major rarity from Barbados of which there are also only three known examples sold at auction in the US for $29,000…
1874 1d deep blue with clean-cut perforations, SG66bThe current SG catalogue value of this rarity is £25,000.
Despite all these factors supporting the valuation of my stamp, I have priced it conservatively.
I am able to do this as I was in the right place at the right time and secured it at a good price. 
There are only three in the world and there is no such thing as a perfect example.
My price is only £8,950 for this jewel of the Caribbean.
Huge Upside Potential
Usually, classic rarities such as this show strong historic growth in value. This provides comfort when considering such a purchase for investment purposes.
Take a look at the table below…
The Barbados 1878 1d "Britannia" unsevered bisect stamp has shown a reasonable rate of growth over the past 20 years of 117% (6% pa). However, as you can see, it has shown no growth in value at all in the past 5 years.
This suggests to me a potential upward price correction could be on the cards within the next 5 years. 
Obviously, I can't predict the future, but I do feel there is plenty room for growth in the catalogue value. 
When you add to that the fact I am offering it at a price of £8,950, I would say there is a huge upside potential there. 
A Classic Rare Philatelic Oddity of the British Empire
There is no doubt, this is a philatelic oddity.
That's what makes it so appealing.
It's probably the only chance you are going to get to own this prestigious rarity of the British Empire.
Let's recap:
A major rarity of the Caribbean
Extremely rare, with only three mint examples known to exist
Despite condition issues, it appears finer than the other two surviving examples
Originating from a Gold Medal winning collection
Available to purchase today at a staggering 66% discount to catalogue value
Current catalogue value, unchanged in past five years, could be poised for an upward price correction
Call me immediately on +44(0)1534 639998.
Or email me today at mike@paulfrasercollectibles.com.
Let me know as soon as possible if you want me to reserve this stamp for you.
Kind regards,
Mike Hall
PS. BEWARE: Because this bisect stamp is so valuable, there are a number of forgeries out there. Three obvious giveaways it's a fake: 
Perforations down middle used to bisect the stamp look too good to be true. The machine used on the genuine stamps was not very good
Cut across the bottom to remove the 5-shilling value not symmetrical as not cut by a guillotine, unlike the genuine stamps
Overprint of 1d on each side of differing sizes or smudged