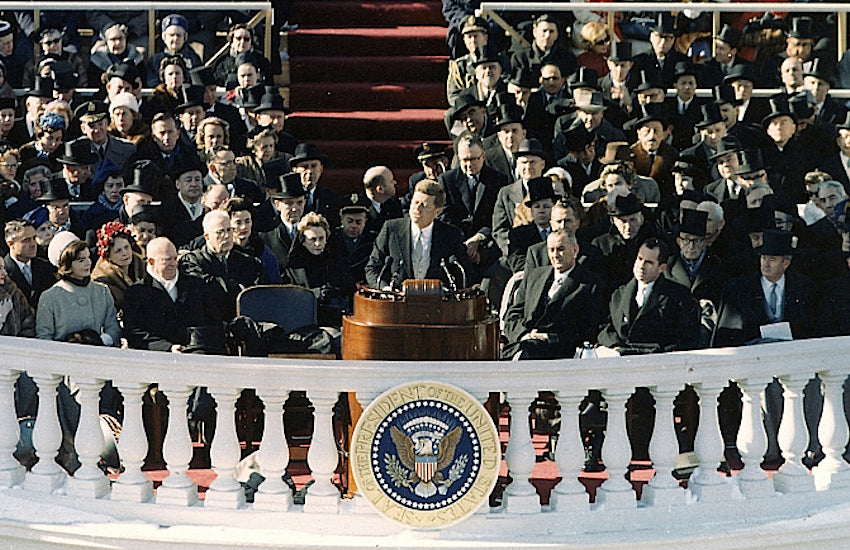 A JFK rarity
Hi fellow collector
It took 1,700 Boy Scouts to clear the path.
The podium spontaneously caught fire.
The poet was blinded by the sun.
And a freezing snowstorm almost cancelled it all.
But on this day in 1961, destiny was on John F. Kennedy's side.
He became the 35th President of the United States.
And his words soared out above the crowd and across the land.
"My fellow Americans: ask not what your country can do for you—ask what you can do for your country..."
It was a day that changed America forever.
On this day, January 20, 1961, the inauguration of John F. Kennedy marked a major turning point for American politics.
Kennedy was the first U.S President born in the 20th century.
He represented a new age in America, and brought a sense of hope and a positive vision of the future.
That vision put a man on the Moon. It struck a blow for equality and Civil Rights. It stood strong as the world teetered on the very brink of nuclear war.
When Kennedy was assassinated on November 23, 1963 the whole world watched together in shock. But today his legacy remains stronger than ever.
That's why JFK is one of history's most collectible U.S Presidents.
His memorabilia truly captures the spirit of America in the 1960s.
And this is one of the finest pieces in my collection.
This is a highly rare and unusually large original 1960 John F. Kennedy Presidential campaign poster.This is a highly rare original John F. Kennedy campaign poster.
Printed in August 1960 – just three months before Kennedy was elected President.
It's one of the most iconic designs in American political history.
Very few survive today, and they're highly prized by collectors.
This is the largest example I've ever seen, measuring 27" x 41".
The condition is superb, and the colours remain vivid and bold.
It's been lovingly preserved as a piece of history for over 60 years.
And it's professionally mounted and framed to an exceptional standard.
This original vintage JFK campaign poster is a superb display piece for your home.
But why is this design so sought-after by collectors?
Because it marked a major turning point for American politics.
The 1960 Kennedy vs Nixon race was the first to feature televised debates. Image became as vital as policy.
And this poster used JFK's youthful good looks and natural charisma to full effect against his older opponent.
"The big problem was whether to have a serious, mature poster or a smiling poster," explains the designer Robert Wilson.
"One of the major arguments being made by the Republicans was that he was not experienced enough to become president, and therefore, this led a lot of people around him - and himself included - in the beginning to think that he should have a rather serious mature poster.
"I convinced him that he looked wonderful smiling, but it wasn't easy."
That positivity captured the mood of a nation, and it sent Kennedy to the White House.
So this is more than just a beautiful vintage poster to hang on your wall. It's an important piece of political history.
That's why the Library of Congress owns a copy. And now you can too.
An iconic political poster in superb condition. This is JFK memorabilia at its finest.
John F. Kennedy is a cultural and political icon.
He was the first truly modern American President.
And his legacy still resonates with us today, in the fight for Civil Rights and our mission to explore the stars.
So if you want a stunning vintage display piece that defines the sixties...
With real power and the weight of history behind it...
This rare original poster is as good as they come.
You can purchase it today for just £3,995 ($5,455).
I want you to have total peace of mind when you buy.
That's why this poster comes with a Lifetime Moneyback Guarantee and my own personal Certificate of Authenticity.
And delivery is completely free and fully insured.
But don't forget:
This is the only John F. Kennedy campaign poster in my collection.
Once it's sold, I doubt I'll ever see another copy. So act now.
To buy this rare poster today, email me at info@justcollecting.com.
Or call me on +44 (0) 1534 639 998.
I look forward to hearing from you.
Thanks for reading,
Paul Fraser,
Chairman, Just Collecting.