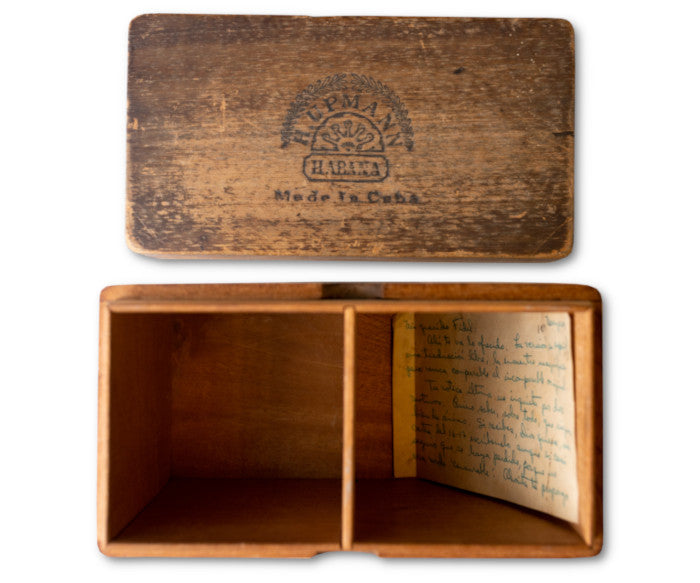 5 top lots from a world-class auction
Hi fellow collector
Once in a lifetime.
That's the only way to describe this auction.
A sale of items so important that they literally rewrite the history books.
So rare that most have never been seen outside of Cuba.
Direct from the private personal collection of Fidel Castro himself.
The story of a revolution in 39 museum-quality lots.
You'll never have a better opportunity to own a piece of Cuba's remarkable history.
This is a world-class auction. And you have exclusive access.
Online bidding goes live on May 26, and runs until June 23.
I'm advising all my clients to register their interest ASAP, to receive further information and a full catalogue.
But until then, here are just five highlights from one of the finest private collections I've ever handled.
Fidel Castro's prison cigar box with secret message compartments
The custom-made cigar box used by Fidel Castro circa 1953-1955, as he served time in prison for his attempts to overthrow the Batista regime.
The box features secret compartments which he used to pass messages and instructions to his supporters during his incarceration.
Previously unknown to historians, and owned by Castro's long-term mistress Naty Revuelta Clews, who visited Castro regularly in prison and smuggled his letters to the outside world.
A remarkable piece of political memorabilia which helps rewrite the history of the Cuban Revolution.
Estimate: £100,000+
Fidel Castro's personal Cuban Revolution photography archive
An extraordinary photo archive of approx. 130 original vintage prints documenting the history of the Cuban Revolution.
Personally owned for decades by Castro and his long-term mistress Naty Revuelta Clews. Many completely unseen and unpublished until now.
70 of the photos were taken by Alberto Korda, Castro's personal photographer, who also took the famous Che Guevara photo that became one of the most iconic images of the 20th century.
Estimate: £50,000+
Fidel Castro's personal signed 26th of July Movement armband
Fidel Castro's personal M26-7 armband, worn by members of the 26th of July Movement - the Cuban revolutionary group and political party founded by Castro in 1955.
Signed and inscribed by Castro "How many people will remember this moment? January 1, 1959 Fidel".
January 1, 1959 was the day after Castro and the movement had successfully overthrown the Cuban dictator Batista.
A stunning and almost certainly unique piece of Cuban political memorabilia.
Estimate: £15,000+
Fidel Castro's personally worn sombrero
Fidel Castro's owned and worn sombrero, gifted to him circa 1961-61 by his mistress Naty Revuelta Clews.
Accompanied by a photograph of him wearing the hat whilst working in the fields harvesting sugar cane.
A superb personal Castro item which captures the essence of Cuba.
Estimate: £5,000+
Fidel Castro's personal signed Cuban flag
A full size Cuba flag personally owned by Fidel Castro.
Signed and inscribed in Spanish by Castro between the two eye holes: "The future of our nation must be one of Science. Fidel Castro."
A large, highly rare and impressive display piece in very good condition.
Estimate: £15,000+
View the complete auction preview here
There's never been a sale of Cuban Revolution memorabilia like this.
And there never will be again.
This auction is already attracting attention from around the world.
I expect the interest will be global. And bidding will be fierce, from private collectors and public institutions alike.
So register your interest now, and stay ahead of the competition with my regular auction updates.
Contact me at info@justcollecting.com.
Or call me directly on +44 (0)1534 639 998.
Thanks for reading,
Paul Fraser,
Chairan, Just Collecting.