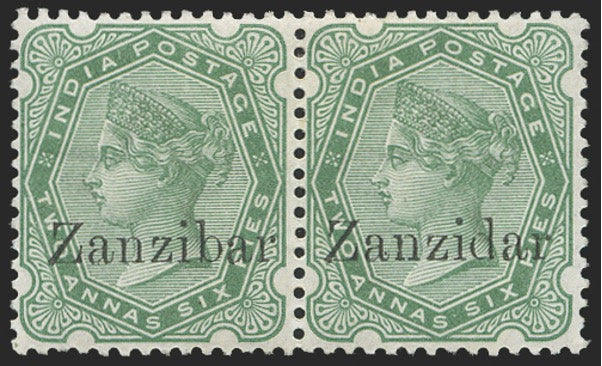 5 reasons why I expect this stamp will sell quickly
A stamp combining the two hottest areas of the stamp market
There is a well-coined phrase amongst stamp dealers… 
"If you buy well, the selling takes care of itself."
I always know when I secure a key stamp rarity it will only fleetingly be in my possession.
The key British Commonwealth philatelic rarity I have for you today defines "buying well".
The last time I had something similar, it sold within minutes of pressing "SEND" on the e-mail.
 There can only ever be one owner of this philatelic pearl as it is unique…Technical Description: Zanzibar 1895-96 2a6p yellow-green, type 1 overprint on India, horizontal pair, SG8j. The right stamp includes the error "Zanzidar" (with second "z" and "d" both normal), from Setting 1 (= Hall "D"). R4/6 (second state).
 Here are the 5 key reasons why you will want to own it…
It combines the two most strongly contested areas of the stamp market right now – India and Africa 
It is one of the most startling errors from this issue, with the overprint showing "Zanzidar" instead of "Zanzibar" and most appealing to collectors in this area of study 
There are only two mint examples of this stamp error in private hands, and this one is unique because it is paired with the normal stamp
It is of exceptional quality and the finer of the two genuine unused examples 
It is one of those rare stamps where the power of its provenance provides such stature as to make it irresistible
The background
The island of Zanzibar sits off the east coast of Africa. Along with the nearby island of Pemba, it formed the Sultanate and British Protectorate of Zanzibar in the late 19th century.
The first post office was opened there in November 1868 by the Indian Post Office, but it closed in April 1869 for political reasons.
When it was re-opened on October 1st, 1875 it used Indian stamps. On November 10th, 1895 the control of the post office was handed over to the Government of Zanzibar.
Although stamps with the Sultan's portrait were ordered for the transfer of control, whilst they were waiting to be printed, they continued to use Indian stamps overprinted "Zanzibar" until their arrival.
As such, these Indian overprinted stamps are the first stamps used by the Zanzibar Post Office.
The overprints were applied to the Indian stamps at the office of the Zanzibar Gazette. Because the work was performed by native "craftsmen", countless errors were made.
These errors have become the fascination, and uncovering them a delight, for many a philatelist ever since.
Exceptional Condition
Remember, there are only two mint examples of this famous stamp error known to exist.
And, this one is by far the finest…
Lovely fresh colour, which is quite remarkable considering its age and also because of the damage you would expect from the climate in this part of the world
Perfectly centred with all perforations full and undamaged
It has its original gum, which is rare to see for stamps from Zanzibar
As if that wasn't enough…
This stamp goes even further towards philatelic excellence…
The stamp error remains joined as a pair to the correct stamp, providing the most visual way of showcasing the glaring error.
Powerful Provenance 
Provenance is used in the stamp world as a practical way of establishing authenticity of rare items through tracking the chronology of previous ownership. 
Sometimes though, the provenance itself adds considerable value to a rare stamp.
This is particularly the case when high profile collectors once owned the stamp.
The history of ownership of this famous Zanzibar stamp error includes four major philatelists. Amongst them was the most famous of them all…
Philip Ferrari de La Renotière (1850-1917)
The legendary collector Philip Ferrari, more affectionately known in the philatelic world as simply "Ferrary", once owned this stamp.
Ferrary is renowned for quite simply building the greatest collection ever.
He was the only philatelist to ever manage to own all of the world's greatest rarities at the same time. And yes… this included the British Guiana 1c Magenta, which last sold for $9.5m. It is highly unlikely anyone will ever achieve this amazing feat again.
Stamps previously owned by Ferrary are considered special because they were once part of the greatest collection of all time.
The stamp's authenticity is further supported by an independent and clear certificate of authenticity from the British Philatelic Association…
Both the provenance and independent certificate of authenticity add further value to this key rarity.
Investment Potential
What you have here is the best quality example of the only two known examples of a major stamp rarity.
You would therefore expect it to command a serious price. By way of comparison… 
There are two known examples of the Sicilian error of colour from 1859. The price tag for this was $2.6 million when it last sold at auction in 2011!
There are also only two examples of the US 1 cent Benjamin Franklin Z Grill from 1868. The last value placed on this was $3 million when it was swapped for the block of four inverted Jenny stamps with Bill Gross. He needed this stamp to complete his US collection.
Yet, even though there are only two examples of the "Zanzidar" stamp error, the current Stanley Gibbons catalogue price is just £7,500.
Looking at historic catalogue prices for this rarity brings up some interesting results…
In 2007, it was listed in the Stanley Gibbons catalogue at a value of £4,250. Five years later, the 2012 edition quoted a price of £7,500.
The growth of 76% (15% pa) in that five year period is the kind of growth you would expect to see for such a desirable rarity.
Undervalued?
But, wait a minute…
The Stanley Gibbons catalogue price today, 9 years later is still £7,500. How can that be?
The reason is simple…
The stamp is so rare, it has not traded during that time meaning there is no price realisation from which to base an increased valuation.
We purchased this stamp in a private sale, so the current value has not been tested the way it would if it were sold through a public auction.
My view is a realisation at auction today would be capable of a much higher price.
Despite this, I am only asking £7,500, the price is was last valued in 2012…
A fantastic addition to your collection
The early Zanzibar overprint errors are amongst my favourite stamp errors.
They are borderline ridiculous. That's what makes them so fun!
I've always believed stamp errors which need no explaining are the best. They are also usually the most sought-after by collectors.
Because of this, I am supremely confident this stamp will sell today. 
Will you be the new lucky owner?
Call me immediately on +44(0)1534 639998.
Or email me today at mike@paulfrasercollectibles.com.
I look forward to hearing from you.
Stay safe, and thanks for reading.
Kind regards
Mike Hall
PS. If this stamp is above your budget, why not take a look at some other lower valued stamps from Zanzibar we have available right now, which also include some key pieces of postal history…