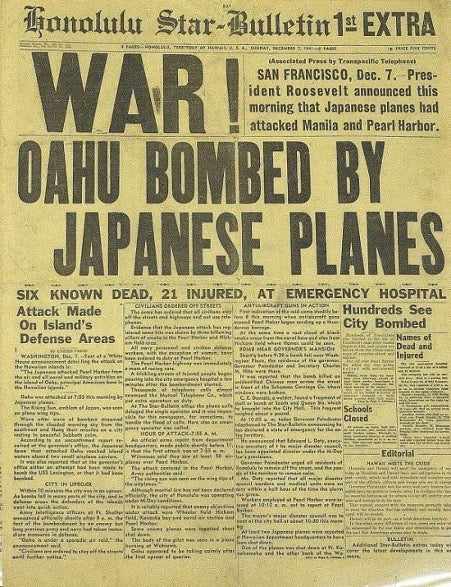 5 INCREDIBLE PIECES OF PEARL HARBOUR MEMORABILIA
Check out these 5 amazing pieces of Pearl Harbour memorabilia
It's been 73 years to the day since the attack on the US Navy in Pearl Harbour. The following are 5 fascinating collectibles that help tell the story of that day.
Newspaper front page
Image: The Written Word Autographs
The Honolulu Star was among the first to print news of the attack on December 7, 1941 and includes a number of eyewitness accounts.
This rare surviving copy made $2,500 at The Written Word Autographs in New Hampshire in 2010.
Flying Tigers jacket 
Image: Christie's
Pappy Boyington headed up the Flying Aces, a squadron of elite US pilots that were the first to fly into China to fight the Japanese in 1942.
This jacket was presented to him in recognition of his role in the savagely fought air war.
It displays a tiger emblem on the front and a map of Japan on the reverse and sold for $3,760 at Christie's New York in 2001.
FDR signed document
Image: Christie's
This bill signed by US president Franklin Roosevelt achieved $29,900 at Christie's in 1999.
It dates to December 12, 1941, less than a week after the attacks, and affirms his support for joining the war.
It reads in part: "The Axis powers now have openly declared themselves to be our enemies. We must not only help others to defeat them. We must fight them, with all the forces we have and can get…
"Too much is at stake in this greatest of all wars for us to neglect peoples who are or may be attacked by our common enemies."
USS Arizona flag

Image: Bonhams
The USS Arizona was one of the ships sunk at Pearl Harbour and the only one that could not be salvaged in its aftermath.
This flag was retrieved from a storage locker by divers in the days after the bombing and presented to Mrs Isaac Kidd. Rear Admiral Kidd was killed in the attack.
It sold for $170,500 at Bonhams. 
Japanese bombing report
Image: Christie's
This report was compiled by Mitsuo Fuchida, the commander in charge of the assault, and presented to the emperor.
Fuchida explained in his autobiography: "Standing directly across from His Majesty, I unfolded the layout in front of him and, pointing with my finger at the relevant places on the battlefield diagram, gave a blow-by-blow description of our battle achievements against the enemy ships...."
Interestingly enough, Fuchida ended up converting to Christianity and immigrating to the US after the war.