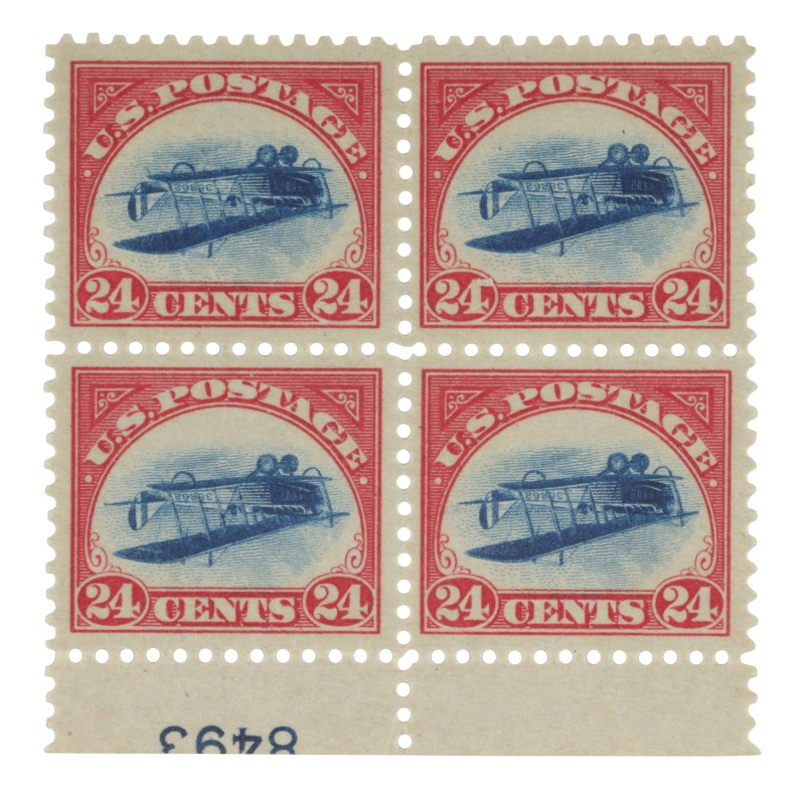 $32 million changes hands in 10 minutes
Unique stamp errors continue to deliver BIG returns
Yesterday, a new world record price was set for a stamp error…
That price was just shy of $5 million…
The unique US "Inverted Jenny" plate number block of four, which sold yesterday for just under $5 million
The sale was held at Sotheby's, New York at 10am Eastern Time yesterday.
In just over 10 minutes, $32 million changed hands.
Up for sale were three treasures collected by the billionaire shoe designer, Stuart Weitzman.
The buyer of the Inverted Jenny block of four was revealed by a Sotheby's announcement shortly after the sale:
"We can now confirm that the Inverted Jenny Plate Block was acquired by David Rubenstein, the co-founder and co-executive chairman of The Carlyle Group. He made headlines several years ago as the buyer of the Magna Carta that was sold at Sotheby's for $21.3 million." 
With this new record being set, it presents real market vindication of the craze for owning the world's most famous stamp errors. 
Today, I'm offering you the opportunity to own a unique and wonderful stamp error of the highest importance.
At a fraction of that price…
Truly a star item of King George V philately 
The unique block of stamps I have for you today ranks amongst the star items of Cyprus philately. It has sat proudly in some of the greatest collections of the country ever formed…
Cyprus 1934 (1 Dec) 1 pi black and red-brown "Soli Theatre", left marginal block of four comprising TWO VERTICAL PAIRS, ERROR IMPERFORATE BETWEEN, SG136a
The stamp itself is a classic design typical of the King George V period featuring the Soli Theatre.
Soli was an Ancient Greek city in Cyprus dating back to the 6th Century BC. Most of the existing remains of Soli are from the Roman Imperial Period.
However, it is not the wonderful design of this block of stamps which makes it so valuable.
The value is in the very rare printing error…
The Error
The printing error resulted in the loss of perforations between the pairs of stamps.
What makes this error particularly remarkable is the exemplary quality control carried out by the printers, De La Rue throughout their empire-wide printing contract.
In short, it should never have occurred.
Vanishingly few production errors of this magnitude were allowed to escape the factory floor.
It is testament to their impeccable standards that imperforate pairs are of such extreme rarity and philatelic importance.
The ultimate in rare - UNIQUE
Only a single strip of six pairs existed.
These were discovered in a Post Office in Paphos, in December 1937.
Of the six pairs, one had been cut with scissors by the postmaster and used for postage as single stamps. 
The remaining five pairs were fortunately spotted by the famous philatelist named C.G. Constantinides.
He immediately purchased them all.
If he had not stopped by that day it is likely all of the pairs would have been split and these philatelic treasures would have been lost forever.
This is the only block of four in existence making it a unique philatelic trophy.
Of the other three pairs, one has been tragically damaged by a house fire; its plastic mount now permanently bonded to the face of the stamp.
As an amusing side-note, the damaged block was once described as "mishandled" when in reality the poor chap's house burned down!
Beautiful Quality
Unique philatelic items are naturally the most coveted.
But, when something unique is also in very fine quality, it becomes not just desired but adored by philatelists worldwide.
Let me explain the incredible quality you will appreciate when you hold this unique block of four in your hands…
It has beautifully strong, deep and rich colour 
It is in pristine mint condition (no bends, no toning or stains and perforations all intact) – it has been well cared for and preserved over the past 87 years 
It has its original clean gum; the left pair being unmounted mint
 It is a left marginal example, which is the icing on the cake adding a premium to its value 
It definitely deserves its accolade as a superstar of British Empire philately.
Prestigious provenance
The provenance of this major rarity can be tracked all the way back to its original finder, the famous philatelist C.G. Constantinides in 1937. 
Since then, it has featured in some of the greatest collections ever assembled.
In recent times, it was sold by Spink Auctions on February 24th, 2009 in "The Aphrodite Collection" sale.
It has since been authenticated and sold by the oldest stamp dealer in the world, Stanley Gibbons with their lifetime guarantee of authenticity.
And, it naturally comes with our own certificate of authenticity giving you a lifetimes moneyback guarantee of authenticity.
So, you have complete peace of mind, this special item is 100% genuine.
Strong area of the market for investment
As mentioned at the beginning of this e-mail, the market craze for unique stamp errors was very recently proven at the Sotheby's sale.
The unique US Inverted Jenny block of four sold yesterday for just under $5 million. 
This compared to its last publicly traded value of just under $3 million when it was purchased by the legendary investor and stamp collector, Bill Gross.
So, a cool $2 million growth in value.
The most famous stamp error from Great Britain is widely considered to be the 1976 13p roses error of missing value.
This was valued in the Stanley Gibbons catalogue in 2000 at a price of £20,000.
It was last sold a few years ago for £150,000, 6.5x profit in less than 20 years.
Arguably, the famous stamp rarity I have for you today sits in the same ranks at the top tier of stamp error collecting.
You can own it today for a very fair price
The Cyprus 1934 imperforate error is so rare it hardly ever trades in the open market.
In the Stanley Gibbons 2004 catalogue a pair was listed at a value of £13,000.
The last time one of the two remaining undamaged pairs were sold was by Spink Auctions in February 2009.
On that day it realised £25,000 against the pre-sale estimate of £9,000-£10,000.
The sale result represented a 92% increase in value in just 5 years.
This was the last time the price of this major error was tested.
So, the price of a pair in 2009 was £25,000.
Twelve years have passed since then.
Regardless, I am able to offer you this unique block of four today for the price of £50,000.
That price represents the value of two pairs twelve years ago.
When you consider the significant premium value of the unique form as a block of four, not to mention being a very fine quality marginal example, this price is exceedingly fair.
I'm sure Sotheby's would agree. 
Secure this star item of stamp error collecting today…
Join the top echelon of stamp error collectors today
If you have never purchased a major stamp error before, when you purchase this stamp, you will immediately become a proud member of the top echelon of stamp error collectors. 
If you are already an avid collector of stamp errors, then this true great is a necessary addition to feature as a prominent item in your collection.
When you own this major rarity, you become the custodian for future generations.
One day, you or your descendants will come to sell.
During the time of your ownership though, no one else can have what you have.
That is the definition of unique.
To summarise:
A rarity from the top tier of stamp errors in the world
In stunning pristine condition and a beauty to behold
Available at a fair price
In an area of the market with recent proof of strong support and demand
Call me immediately on +44(0)1534 639998.
Or email me today at mike@paulfrasercollectibles.com.
I look forward to hearing from you.
Kind regards
Mike Hall
PS. If the price of this star item is outside your reach right now, don't worry. It is also available to buy under our layaway plan of 12 monthly instalments. Contact me now to find out more.