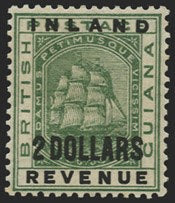 10 of the hottest rarities in demand right now
In January I always reflect on the year just passed.
Part of that reflection includes looking back over the sales reports for the year. 
It is important I do this…
You see, I use this analysis to determine where I need to focus my buying efforts for the year ahead to satisfy the areas where demand is the highest.
As always, the biggest challenge is finding the right quality of rare stamps in these areas of highest demand.
This is the most basic economic factor in the rare stamp market, which leads to the prices of the rarest of stamps rising.
To help you to secure stamps which are in the areas of hottest demand right now, I have selected 10 choice examples for you to add to your collection today.
These are the top 10 countries in terms of the number of stamps we have sold in the past year.
If you are like me, you will have plenty time today to study my recommendations…
10. British Guiana
British Guiana 1888-89 $2 dull green, SG185
A fine quality mint example with original gum. One perforation is toned on reverse, but a very fine example for this issue and much fresher than usually found.
A very rare stamp with only 1,200 sold without the surcharge, for postal and revenue purposes.
SG Catalogue Value: £250
Price: £225
It is no surprise to see British Guiana stamps so popular this year. 
British Guiana has always been a hugely popular area of philately with its fascinating and absorbing postal history.
It was also a country firmly in the spotlight this year with the sale of the world's most valuable stamp, the British Guiana 1856 1c magenta. It realised $8.3m in June at a Sotheby's auction in New York.
There was also a major British Guiana auction held in October dubbed by the auctioneer as "a fairytale auction", where the results were outstanding. The sale realised £2.8m and the result was 130% of pre-sale estimates.
Price rises in the year were evident on reviewing the recently published Stanley Gibbons British Commonwealth & Empire catalogue. 
9. Gibraltar
Gibraltar 1966 Angling 7d error, black (value and inscription) omitted, SG191a
Unmounted mint, Post Office fresh example with full original gum.
A spectacular and exceptionally rare modern stamp error.
There was only one sheet of 60 produced with this error. Only 36 examples are reported to have survived by Pierron, with the remainder, presumably, being used for postage at the time and destroyed.
Price: £1,800
The British Overseas Territory of Gibraltar is a surprise entry to the top 10 this year. 
Situated off the southern coast of Spain, it has a population of around 35,000 people and covers just 4 square miles of land.
Despite its small stature in the world, this little Island has managed to produce one of the world's most famous stamp errors.
Stamp errors were the most popular area of collecting, in our experience, this year.
This spectacular error results in the value and inscription both being missing. It was considered such an important error, it was commemorated by another stamp issue from Gibraltar in 1970, just 4 years later! 
8. Falkland Islands
Falkland Islands 1938-50 5s indigo and pale yellow-brown, "Southern Sea Lion", SG161b, 1938 second printing, upper marginal BLOCK OF 4 (folded horizontal perforations)
A fresh unmounted mint full original gum example. The lower right stamp with small corner crease (barely detectable), but a rarity in this form and condition.
A beautiful multiple of this popular King George VI stamp issue in a rare colour variety.
Accompanied by a 2018 British Philatelic Association (BPA) certificate of authenticity.
The Stanley Gibbons catalogue value is £4,400+.
Price: £3,950
The Falkland Islands, an archipelago of some 778 islands in the South Atlantic, issued their first postage stamp in 1878.
From that very first issue right through to the present day, the Falkland Islands have continued to issue beautiful stamps.
Their stamps are internationally recognised for their exceptional design and production qualities. 
The Falkland Islands Philatelic Study Group celebrated its 50th anniversary last year and is one of the most active philatelic societies in the world.
7. Zanzibar
Zanzibar 1926 (SP 21) incoming cover from Durban
Blue and red embossed "UNION-CASTLE LINE" logo on flap, under-franked by 1926 1d black and carmine "Ship", tied by machine cancel, with "T/20c" oval tax mark applied on despatch (= 20 gold centimes) at lower left.
Type D9 "ZANZIBAR" arrival backstamp of "SP 21 26", the deficiency paid on face by 1926-30 12c black/green postage due, SGD7 (R5/1 on sheet), uncancelled as was the usual until mid-1929.
An attractive cover despite a small cover stain (and flap tears), and the 12c postage due with unobtrusive faults.
Minor condition faults can be forgiven as it is such an extremely rare and desirable early usage cover and one of only seven recorded from 1926, from which just two have the 12c value.
Provenance: Ex Griffith-Jones (Illustrated on p.289 as fig. 11.7; census listing F.4) and Harmer 3/1999 (lot 1617, where it realised £3,215).
Accompanied with a clear British Philatelic Association certificate of authenticity (1999).
Price: £1,950
The island of Zanzibar sits off the east coast of Africa. Along with the nearby island of Pemba, it formed the Sultanate and British Protectorate of Zanzibar in the late 19th century.
This year has seen a marked surge of interest in rarities from Africa, particular for postal history. 
The current strength of the African stamp market was most noticeable in the year with the competition at auctions. Realisations were frequently at a multiple of pre-sale estimates.
This fascinating piece of African postal history is an exceptional rarity, similar to the type of items fetching huge prices at auction in the year.
I would intend to put this through auction in 2022 where I expect it could realise a higher price (in the unlikely event it is not snatched up today)!
The offer price today of £1,950 is at a discount of 39% to the price it fetched at auction in 1999!
6. South Africa
South Africa OFFICIAL 1944-50 'Set 23' (= 1949-50 issue) small format 2d blue and violet, SG type O6 overprint (reading upwards with 'OFFICIAL' at left and 16mm between lines of overprint), BLOCK OF 4, SGO35
Exceptional quality multiple of this key King George VI rarity, unmounted mint with full original gum.
The error on this Government Official stamp is made more famous because of the early philatelic debate surrounding whether it was legitimately issued in error. It was ultimately, after much academic study, accepted as legitimate and has now achieved philatelic fame.
Accompanied by a British Philatelic Association (BPA) Certificate of Authenticity (1983).
The Stanley Gibbons catalogue value for a single example is £4,250.
Price: £8,500
The Government Official stamps of South Africa have been of huge fascination to collectors since they were first introduced. This is partly because they were not made for sale to the public. 
These stamps featured a bilingual English and Afrikaans overprint "OFFICIAL/OFFISIEEL" and were introduced for exclusive use by Government Departments in 1926. 
They remained in production and issue until 1955. 
The overprints were applied by letterpress, but the printing plates were set up using the "Linotype" process. This involved an operator using a keyboard under the printing machine to produce whole words by hot metal casting.
The resulting "slugs" were then assembled manually into a printing plate. The laborious manual process inevitably resulted in a multitude of varieties and errors occurring.
Today, this is a popular collecting area, such are the layers of complexity to uncover, providing a lifetime of fascinating philatelic study.
That's all for now
Watch out for my next post when I will reveal to you the top 5 selling stamp countries of 2021.  
To purchase today's top recommendations, either:
Place your order directly through our online store by clicking on the "CLICK HERE TO BUY NOW" icons
Email me at mike@justcollecting.com
Call on +44(0)1534 639998
Message us to +44(0)7700702962
Thanks for reading. 
Kind regards
Mike Hall  
PS. I will leave you today with a famous quote on what stamp collecting meant to one very famous collector:
"I owe my life to my hobbies – especially stamp collecting." – Franklin D. Roosevelt