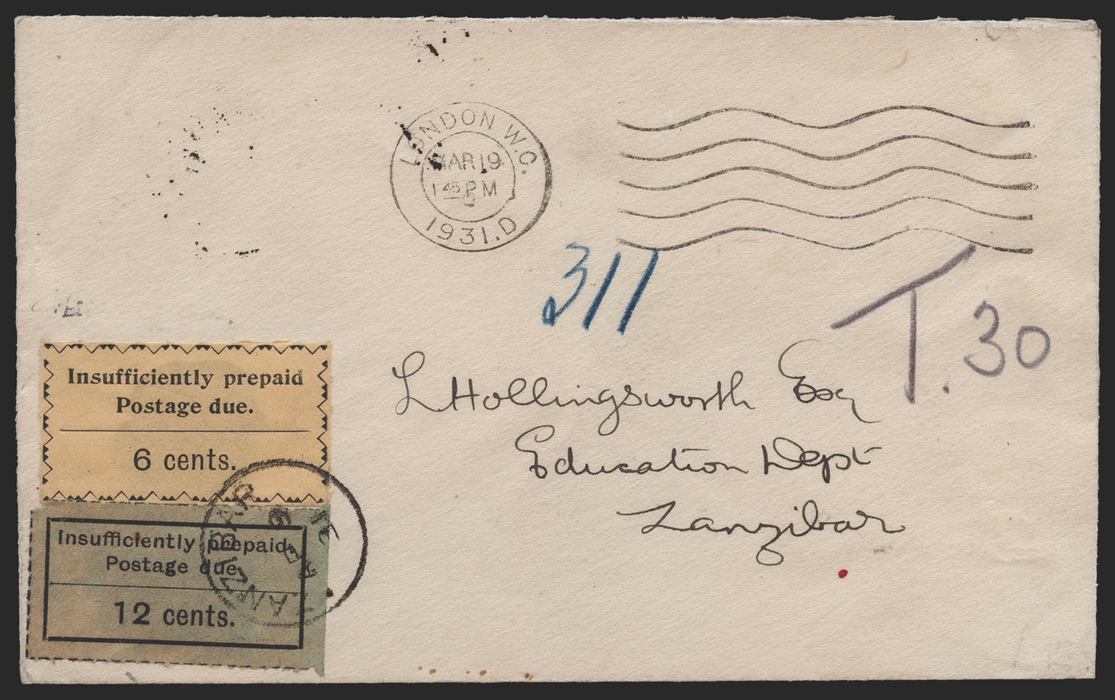 Zanzibar 1931 12c black/green and 6c black/yellow Postage Due Cover, SGD7, 21
£950.00
Zanzibar 1931 (AP 9) incoming unpaid "Hollingsworth" cover from London, with machine despatch date stamp of "MAR 19 1931" and pencil "T.30" tax marking (30 gold centimes = 18 Zanzibar cents).
Arrival backstamp of "AP 8 31", with the deficiency paid on face by 1926-30 12c black/green, (SGD7) (R2/2 on sheet) and 1930-33 6c black/yellow (SGD21) postage dues, tied by type D8 "ZANZIBAR" circular date stamp of "AP 9 31". Blue crayon number "311" relates to G.P.O. register of unpaid incoming mail.
A fine quality cover despite some minor blemishes. The 12c Postage Due also shows some faint discoloration as often seen. Regardless, much finer condition than normally found for important philatelic covers of this nature.
Despite appearing philatelic in nature it is still a rare and important franking, being the latest known date of use of the 1926-30 12c "green".
Provenance: Ex Griffith-Jones (listed on p.472 of his book as census F.100).
BUY NOW: Order online, by phone +44 (0)1534 639 998, or via email info@paulfrasercollectibles.com
Payment & Security
Your payment information is processed securely. We do not store credit card details nor have access to your credit card information.