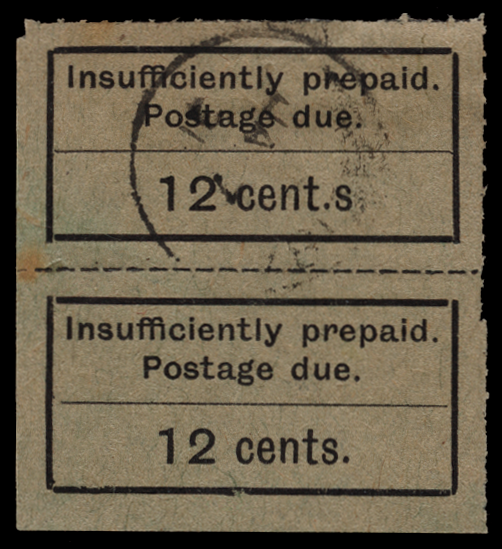 Zanzibar 1926-30 12c black/green Postage Due error, SGD7/a
£2500.00
Zanzibar 1926-30 12c black/green Postage Due, VERTICAL PAIR from R4-5/1 on the sheet (lower left corner), the upper stamp exceptionally showing the error "cent.s", lightly cancelled by complete "JA 7 31" circular date stamp, which barely impinges on the lower stamp, D7/a.
A very fine used pair, particularly high quality for this issue. There is some trivial discolouration (as often seen with this value), but one of the best quality examples you could hope to find.
Extremely rare being one of only six recorded examples of the "cent.s" error. Unique in this se-tenant form, with the further distinction of being the only known multiple of this value (or indeed any of the "rare" 6c, 12c and 25c values).
A most important and desirable philatelic item.
Click here to discover more about this collectible.
BUY NOW: Order online, by phone +44 (0)1534 639 998, or via email info@paulfrasercollectibles.com
Payment & Security
Your payment information is processed securely. We do not store credit card details nor have access to your credit card information.