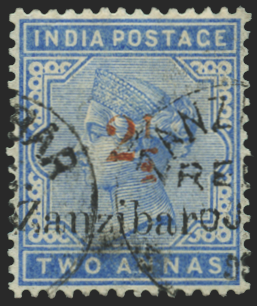 ZANZIBAR 1898 '2½' (type 3) on 2a dull blue (USED), SG38D
Zanzibar 1898 (JAN) '2½' (type 3) on 2a dull blue, SG38d, small second 'z', neatly cancelled by part strikes of 'REG' circular date stamps, dated '10 JA 98', as usually found.
Minor trace of some soiling, but still a fine quality example of this rare printing variety. This stamp is particularly difficult to find used.
The Stanley Gibbons catalogue value is £325.
Payment & Security
Your payment information is processed securely. We do not store credit card details nor have access to your credit card information.