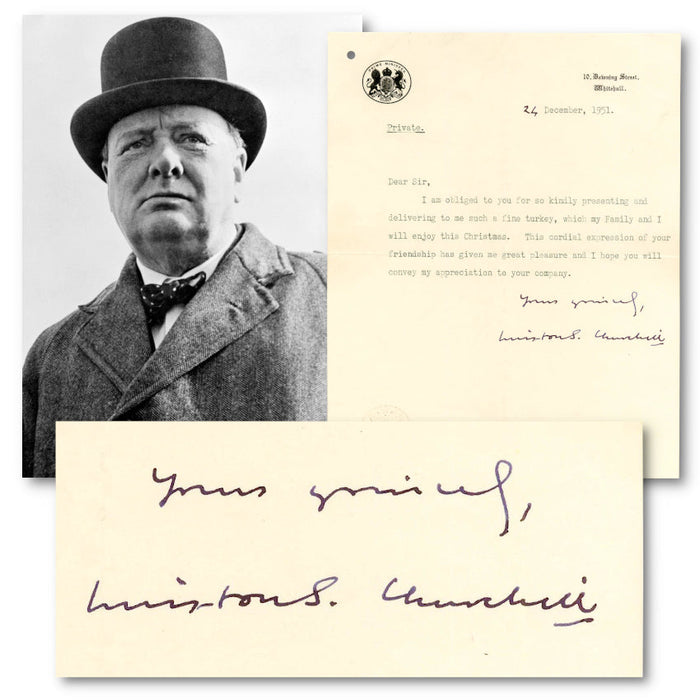 Winston Churchill signed Christmas turkey letter
A typed and signed letter from British Prime Minister Winston Churchill
Unusual content, relating to the gift of a Christmas turkey
Winston Churchill (1874 –1965) was a politician and statesman who twice served as British Prime Minister, and is regarded as one of the most influential people in British history.
Churchill led Britain to victory against Nazi Germany during WWII, with his regular speeches and broadcasts inspiring resistance against Adolf Hitler during the darkest days of the conflict.
In 1963 he became the first person to be declared an honorary citizen of the United States, and following his death in 1965 he was granted a state funeral by Queen Elizabeth II to mark his service to the nation.
In addition to his political career, Churchill was a renowned writer and was awarded the Nobel Prize for Literature in 1953.
This letter, sent as Prime Minister on December 24 1951, reads in full:
"Dear sir,
I am obliged to you for so kindly presenting and delivering to me such a fine turkey, which my family and I will enjoy this Christmas. This cordial expression of your friendship has given me great pleasure and I hope you will convey my appreciation to your company.
Yours sincerely. Winston S. Churchill".
Clearly signed in black fountain pen ink.
Item in very fine condition.
Also included is a glossy 8" x 10" portrait of Churchill, which will combine with the letter to form a striking display piece.
This letter was sent to  John Freeman, who had sent Churchill a turkey in an attempt to revive the poultry industry after WWII.
It was the first Christmas turkey donated to a British Prime Minister, marking the start of a tradition which continues to this day.
Provenance: ex Stanley Gibbons.
Click here to discover more about this item 
Free global shipping. 28-day returns. Certificate of Authenticity and our Lifetime Moneyback Guarantee of Authenticity included. 
Payment & Security
Your payment information is processed securely. We do not store credit card details nor have access to your credit card information.