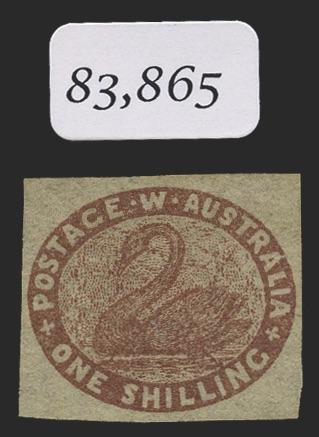 Australia 1854-55 1s deep red-brown unused, SG4a
Western Australia 1854-55 1s deep red-brown, imperforate with large margins, unused, SG4a.
A fine quality mint example of the magnificent and iconic first stamp issue from Western Australia. The Swan was used as it was the emblem of the Colony and a reminder of when it was known as the Swan River Settlement.
The first 1d Swan stamps were engraved and printed by Perkins Bacon. Later in the year, the 4d values were produced by a local lithographer, Horace Samson by taking an impression of the 1d's swan vignette and adding different frames.
Trace of toning on reverse typical of this issue. A fine and attractive example of this very scarce and popular stamp.
Accompanied with a clear British Philatelic Association (BPA) certificate of authenticity (2014).
The Stanley Gibbons catalogue value is £2,000.
Payment & Security
Your payment information is processed securely. We do not store credit card details nor have access to your credit card information.