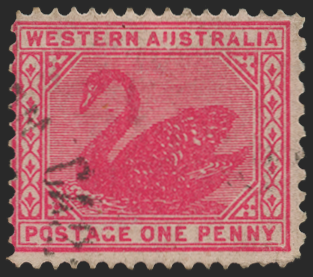 Australia 1902-11 1d carmine-rose variety, SG135a
Western Australia 1902-11 1d carmine-rose, watermark V over crown upright (inverted), type 33, perforations compound of 12½ line and 11 line (at right), SG135a.
A very lightly used example with small part circular date stamp. One short corner perforation, but very fine quality for this exceedingly rare variety, with most examples being of much poorer quality.
The iconic Swan issue of Western Australia was used as it was the emblem of the Colony and a reminder of when it was known as the Swan River Settlement.
The Stanley Gibbons catalogue value is £650.

BUY NOW: Order online, by phone +44 (0)117 933 9500, or via email info@paulfrasercollectibles.com
Payment & Security
Your payment information is processed securely. We do not store credit card details nor have access to your credit card information.