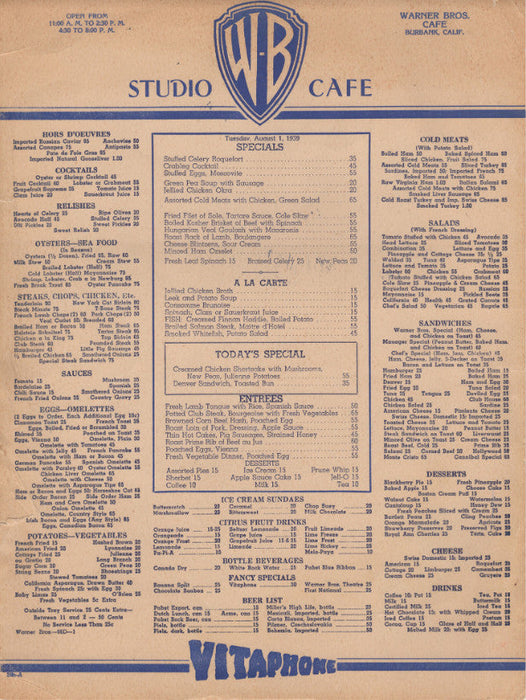 Warner Brothers menu signed by eight actors (including Humphrey Bogart and James Cagney)
A 1939 printed menu from the Warner Brothers Café signed by eight stars of Hollywood's Golden Age

Signatures from Humphrey Bogart, Pat O'Brien, Ann Sheridan, James Cagney, John Garfield, Paul Muni, Burgess Meredith and Frank McHugh
Read our full newsletter on this item here
Warner Brothers

was founded

in Hollywood in 1923 by four brothers, who emigrated from Poland in 1889

.

In the early 1900s, the brothers clubbed together and bought a projector and began showing movies at carnivals
. They opened their first cinema in 1906. As the years went by they got into movie distribution and, later, production. Today Warner Brothers remains one of the world's premiere movie studios.
A large printed menu from the Warner Bros Studio Café dated August 1, 1939.
On the reverse are eight signatures from Humphrey Bogart, Pat O'Brien, Ann Sheridan, James Cagney, John Garfield, Paul Muni, Burgess Meredith and Frank McHugh
.
All the autographs
are undedicated
save for Cagney, who signs: "For Miss Coburn, All the best". O'Brien signs "That goes for: Pat O'Brien"  and Sheridan writes "Best ever – Ann Sheridan"  
The condition is good, with slight bending to the corners and a light tear to the lower left – well away from the signatures
.
A fantastic period piece that captures the excitement and glamour of Hollywood's Golden Age
.
Free global shipping. 28-day returns.
Payment & Security
Your payment information is processed securely. We do not store credit card details nor have access to your credit card information.