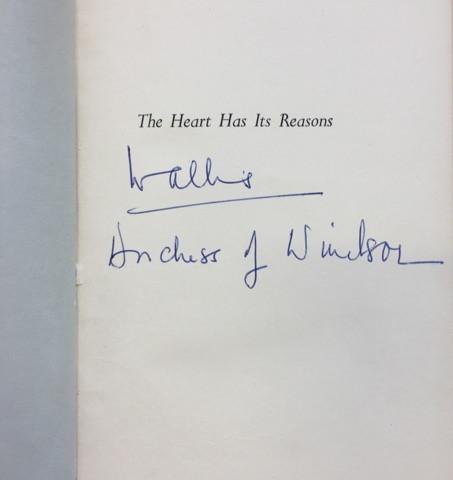 Wallis Simpson signed autobiography
A signed copy of Wallis Simpson's autobiography The Heart Has Its Reasons (1956)
In 1934, Prince Edward was next in line to the throne of the British Isles. He had no patience for the arcane rules of court life and embarked on a romantic relationship with twice-divorced American socialite Wallis Simpson. Her status was a huge problem for the staunchly traditional royal family.
When Edward became king of the United Kingdom in January 1936, he made it clear he planned to marry Wallis. When he was told this was impossible, he abdicated in December of that year. The couple lived out the rest of their lives in a whirl of parties and foreign travel.
A fine signed copy of Wallis Simpson's autobiography The Heart Has Its Reasons.
Wallis has inscribed "Wallis, Duchess of Windsor" on the title page. It's a large autograph with enormous character.
Free global delivery. 28 day returns.
Payment & Security
Your payment information is processed securely. We do not store credit card details nor have access to your credit card information.