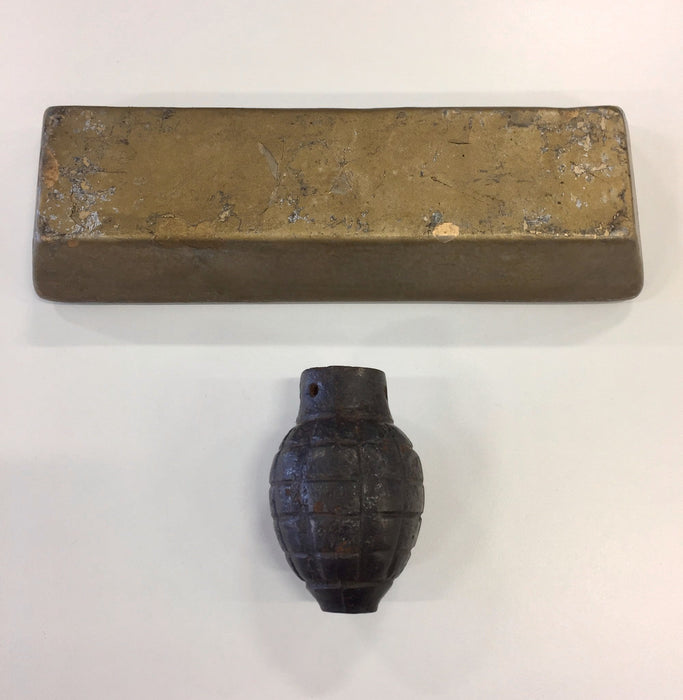 Film-used prop gold bar from James Bond movie Goldfinger
A prop gold bar from classic Bond movie Goldfinger (1964)
Goldfinger is the third film in the James Bond franchise and is among the highest regarded, introducing many of the key elements that would define the series. It's one of only five Bond movies to receive an Academy Award.
This is a 10 x 3 x 1.5 inch prop gold ingot from 1964 Bond film Goldfinger. Constructed from plaster and gold paint with Velcro on the base. Paint is chipped in places, otherwise condition is good. Used during the iconic Fort Knox sequence.
Rare - one of less than 15 known.
Also included is a heavyweight-prop metal hand grenade, likely created for Goldfinger. The top appears to be missing, with a stone lodged into the central area.
Free global shipping. 28-day returns. Certificate of Authenticity and our Lifetime Moneyback Guarantee of Authenticity included.
BUY NOW: Order online, by phone +44 (0)1534 639 998, or via email info@paulfrasercollectibles.com
Payment & Security
Your payment information is processed securely. We do not store credit card details nor have access to your credit card information.