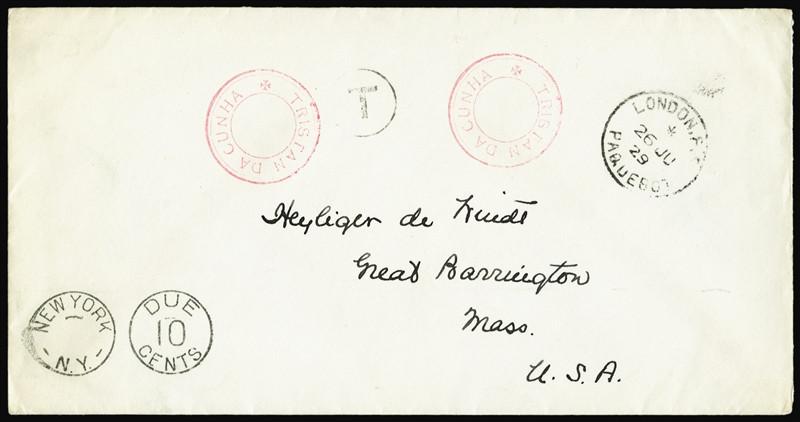 Tristan Da Cunha 1929 stampless cover to USA (SGC7)
Tristan Da Cunha 1929 stampless cover to the USA, carried on board the 'Halesius' which arrived at Tristan Da Cunha on 24 May, with two very fine strikes of the rare type Va cachet in magenta (as type V, but without break in inner ring, and damaged 'T', 'C' and 'N'), 'T' in circle between.
Also a London paquebot transit circular date stamp dated '26 JU 29' at the upper right, and a 'New York Due/ 10 / CENTS' paired circles at lower left. 'JUL 8 1929' receiving H/S on reverse.
Trivial peripheral blemishes mentioned for accuracy, still superb.
Probably the finest of the six covers (and the first to be discovered) recorded by Crabb, which mostly have faint strikes.
Illustrated on p.195 of Crabb's 'The History and Postal History of Tristan da Cunha'.
Ex Jack Cole Collection (Stanley Gibbons Auctions 30/10/98, lot 188). Also an ex Stanley Gibbons stock item.
Tristan Da Cunha did not issue its first stamps until 1952. Between 1908 to 1952, cachets of origin were struck on mail from the island. The handstamps producing these cachets were supplied over the years by people particularly interested in the island as well as islanders. They were predominantly used by the clergymen who volunteered to go and serve as the community's ministers.
 Click here to discover more about this item.
BUY NOW: Order online, by phone +44 (0)117 933 9500, or via email info@paulfrasercollectibles.com
Payment & Security
Your payment information is processed securely. We do not store credit card details nor have access to your credit card information.