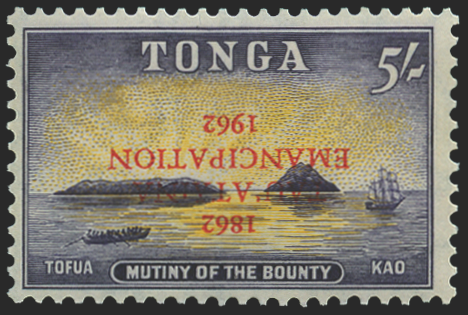 Tonga 1962 5s "Emancipation" 5s orange-yellow and slate-lilac error, SG127a
Tonga 1962 (7 Feb) "Emancipation" 5s orange-yellow and slate-lilac, type 59 overprint, ERROR OVERPRINT INVERTED, SG127a.
A very fine unmounted mint example with full original gum.
R3/3 (position 13) from the one sheet of 60 discovered, which was acquired by Stanley Gibbons Ltd and exhibited at Stampex in March 1962.
An attractive stamp featuring the "Mutiny on the Bounty".
The overprinted stamps were issued in celebration of the Centenary of Emancipation. Emancipation Day remains a public holiday in the Kingdom of Tonga to this day celebrating the abolition of the system of serfdom which had been used by the local chiefs for centuries as a means of forced labour. On June 4th 1862, Tonga's first Christian king, George Tupuo I declared the abolition of serfdom in the official emancipation edict as part of his 1862 Code of Laws.
Accompanied with a Stanley Gibbons certificate of authenticity (1962).
BUY NOW: Order online, by phone +44 (0)1534 639 998, or via email info@paulfrasercollectibles.com
Payment & Security
Your payment information is processed securely. We do not store credit card details nor have access to your credit card information.