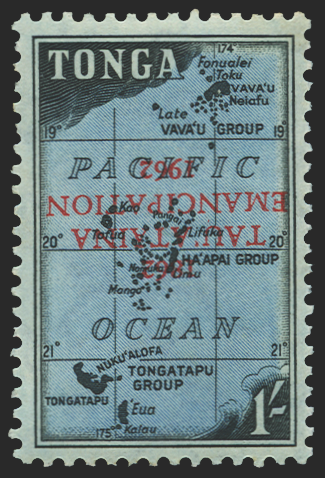 Tonga 1962 1s "Emancipation" blue and black error, SG125a
Tonga 1962 (7 Feb) "Emancipation" 1s blue and black, type 59 overprint, ERROR OVERPRINT INVERTED, SG125a.
A very fine unmounted mint example of this great rarity with full original gum.
A major British Commonwealth rarity in unused condition, being the finer of just TWO examples recorded, with the remainder of the half-sheet of 30 issued at Vavau being used on first day covers.
The overprinted stamps were issued in celebration of the Centenary of Emancipation. Emancipation Day remains a public holiday in the Kingdom of Tonga to this day celebrating the abolition of the system of serfdom which had been used by the local chiefs for centuries as a means of forced labour. On June 4th 1862, Tonga's first Christian king, George Tupuo I declared the abolition of serfdom in the official emancipation edict as part of his 1862 Code of Laws.
The Stanley Gibbons catalogue value is £650, which appears ridiculously under-valued in the context of this stamp's rarity.
BUY NOW: Order online, by phone +44 (0)1534 639 998, or via email info@paulfrasercollectibles.com
Payment & Security
Your payment information is processed securely. We do not store credit card details nor have access to your credit card information.