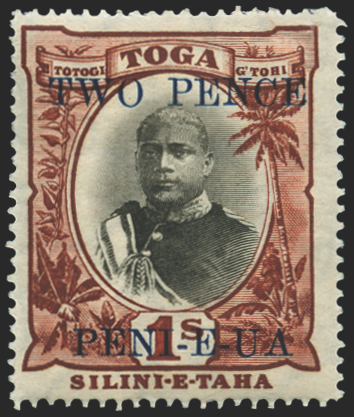 Tonga 1923-4 2d on 1s black and red-brown variety, SG67var
Tonga 1923-24 2d on 1s black and red-brown, type 27 surcharge in blue, watermark upright, SG67var.
A fine and fresh mint example with large part original gum. Rarely seen in such fresh condition.
Plated as position 49 on sheet, with frame-plate retouch at North East corner.
A scarce stamp with the variety and in such fine condition. Only 103 sheets were surcharged in total.
An attractive stamp featuring George Tupou II (Siasi Tupou II), who was King from age 18 until his death (1893-1918). He was the great-grandson of George Tupou I.
NB. Tonga stamps from 1897 to 1949 all use "TOGA" although the pronunciation is "TONGA" with a silent "n".
BUY NOW: Order online, by phone +44 (0)1534 639 998, or via email info@paulfrasercollectibles.com
Payment & Security
Your payment information is processed securely. We do not store credit card details nor have access to your credit card information.