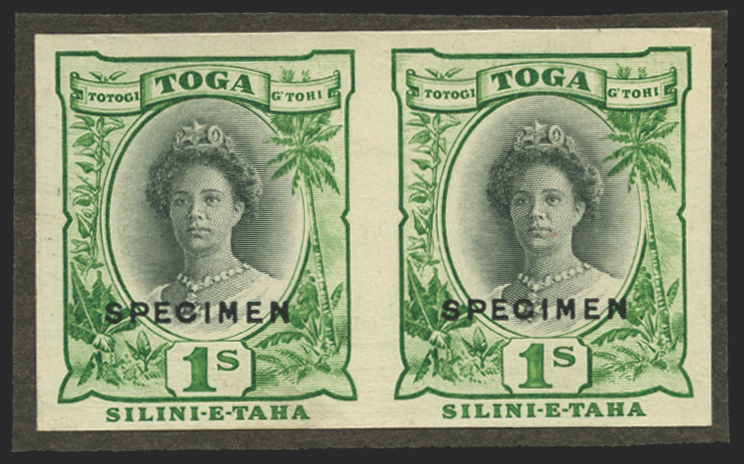 Tonga 1922 1s 'Queen Salote' in black and yellow-green printer's sample, SG63
Tonga 1922(c.) printer's sample of 1920-35 1s "Queen Salote" in black and yellow-green on thick wove, overprinted "SPECIMEN" (type DS1), SG63.
A very fine imperforate horizontal pair, affixed to piece of brown card from a sample book.
A rarity in a multiple, and most attractive.
The engraved stamps issued between 1920-35 depicted Queen Salote III who reigned between 1918-1965. She was the only child and heir of King George Tupou II.
She is remembered fondly in Great Britain mainly because she attended the coronation of Queen Elizabeth II in 1953. When it started raining, hoods were placed over the carriages during the procession. However, Queen Salote refused the hood, as Tongan custom does not allow one to imitate the actions of the person one is honouring.
BUY NOW: Order online, by phone +44 (0)1534 639 998, or via email info@paulfrasercollectibles.com
Payment & Security
Your payment information is processed securely. We do not store credit card details nor have access to your credit card information.