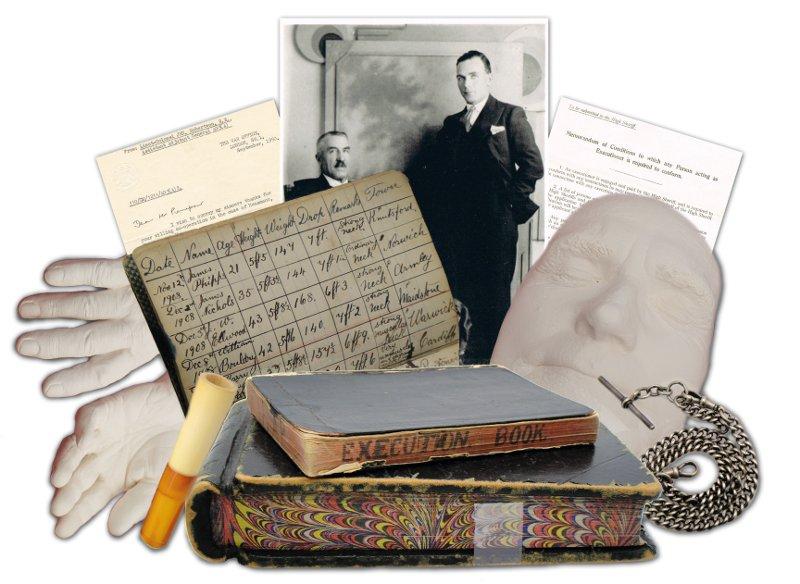 The Pierrepoint Hangman Collection
The Pierrepoint Hangman Collection is an extraordinary collection of memorabilia relating to the family of famous British hangmen, in particular Albert Pierrepoint
The collection includes Albert and Henry Pierrepoint's absorbing execution ledgers, the Pierrepoints' chilling watch chain used at hundreds of executions, and fascinating official correspondence
The Pierrepoint Family
Albert Pierrepoint (1905-1992) is the most prolific and most famous British hangman.
Albert executed approximately 600 people between 1931 and 1956 – first as an assistant executioner (1931-1940) and then as lead executioner from 1941 onwards.
Those he hanged include:
Gordon Cummins, "the Blackout Ripper", in 1942
John George Haigh, "the Acid Bath Murderer", in 1949
John Christie, "the Rillington Place Strangler", in 1953
The last woman to be hanged in the UK, Ruth Ellis, in 1955
Traitor William Joyce, better known as "Lord Haw Haw", in 1946
200 Nazi war criminals, including the "Beast of Belsen" Josef Kramer in 1945
Innocent men too succumbed to his noose. Derek Bentley, Mahmood Mattan and Timothy Evans were all posthumously pardoned.
Albert was renowned for bringing compassion and dignity to the last moments of the condemned person's life. Writing in his autobiography, Albert said: "A condemned prisoner is entrusted to me, after decisions have been made which I cannot alter. He is a man, she is a woman who, the church says, still merits some mercy.
"The supreme mercy I can extend to them is to give them and sustain in them their dignity in dying and in death. The gentleness must remain."
Following his retirement Albert questioned the efficacy of capital punishment, although his views vacillated for the remainder of his life.
Pierrepoint's legacy has influenced modern culture, most notably a 2005 film based on his life that centred on the execution of Ruth Ellis.
Albert Pierrepoint was preceded as an executioner by his uncle Thomas (1870-1954), and his father, Henry (1878-1922).
Henry carried out 105 hangings between 1901 and 1910, when he was dismissed from his duties for arriving drunk.
Henry had already encouraged his elder brother Thomas to train as an executioner, demonstrating the technique with a sack of grain in the shed. This career path suited Thomas well and he worked as an executioner from 1906 to 1946.
At the age of eleven, Albert Pierrepoint professed his desire to follow in his father's footsteps, writing at school: "When I grow up…I should like to be the official executioner"
In 1931, a decade after father Henry's death, Albert began to train under his uncle Thomas, assisting him with hangings throughout the 1930s.
In total, the three Pierrepoints were involved in some 800 hangings. They were respected for their serious application to the post, administering the death penalty in a humane and dignified manner.
The Pierrepoint Hangman Collection includes:
Henry Pierrepoint's execution book, 6.75 by 4.5 inches. It includes personal details of those he hanged from 1 November 1901 to 14 July 1910. The sites of the executions and the prisoner's name, age, height and weight are included, as are remarks on the physical frame of the prisoners and calibre of their necks. For example: "very heavy body, ordinary neck"; "wirey, very thin neck"; "strong neck, little flabby". Henry used these to calculate the required length of rope and distance of "drop" to break the prisoner's neck instantly. The "drop" is meticulously recorded for each.
Albert Pierrepoint's large execution ledger, 9.5 by 6 inches. The leather bound book is embossed with the name "A. Pierrepoint". Like his father's execution log, precise personal details are included, with some additional notes on prisoners of interest, such as: German, Dutch and Belgian spies; IRA members; German POWs; British soldiers.
From 29 December 1932 to 27 July 1955, hundreds of names are recorded, many of them notorious.
Henry Pierrepoint's amber and ivory cigar holder. 3.2 inches in length, it comes with its original leather, silver and velvet-lined case, measuring 3.5 inches.
A fine silver watch chain worn by Albert, Henry and Thomas at hundreds of executions between 1901 and 1956. It measures 17 inches in length, including the silver bar. Using this chain, the Pierrepoints counted the last minutes of the condemned before the cell doors opened, and the words, "it's time", were uttered.
Several documents and photographs relating to Albert Pierrepoint's term as executioner.
These include:
A "Memorandum of Conditions to which any Person acting as Executioner is required to conform"
Photographs of the Pierrepoint men, Robert Fabian (Fabian of the Yard), John Ellis, and JRH Robertson (Assistant General to Albert)
A letter of thanks from the War Office. The letter refers to the controversial case of Golby, Hensman and Smith, three British soldiers who, in 1950, were charged with murdering an Egyptian night-watchman. Only Hensman pulled the trigger, but all three were sentenced to death. The 8 by 6.5 inch letter, written by Lieut-Colonel JRH. Robertson, R.E. Assistant Adjutant General, reads: "Dear Mr. Pierrepoint, I wish to convey my sincere thanks for your willing co-operation in the case of Hensman, Smith and Golby. I hope you were well looked after in HELF and led (apart from business) an enjoyable trip."
Plaster of Paris casts of Albert Pierrepoint's face and both hands. The plaster casts have preserved an incredible level of detail on the last face many prisoners saw, and the hands that sent them to their deaths.
Provenance: The collection previously auctioned at Christie's in 1992.
Free global delivery. 28-day no quibble returns.
Payment & Security
Your payment information is processed securely. We do not store credit card details nor have access to your credit card information.