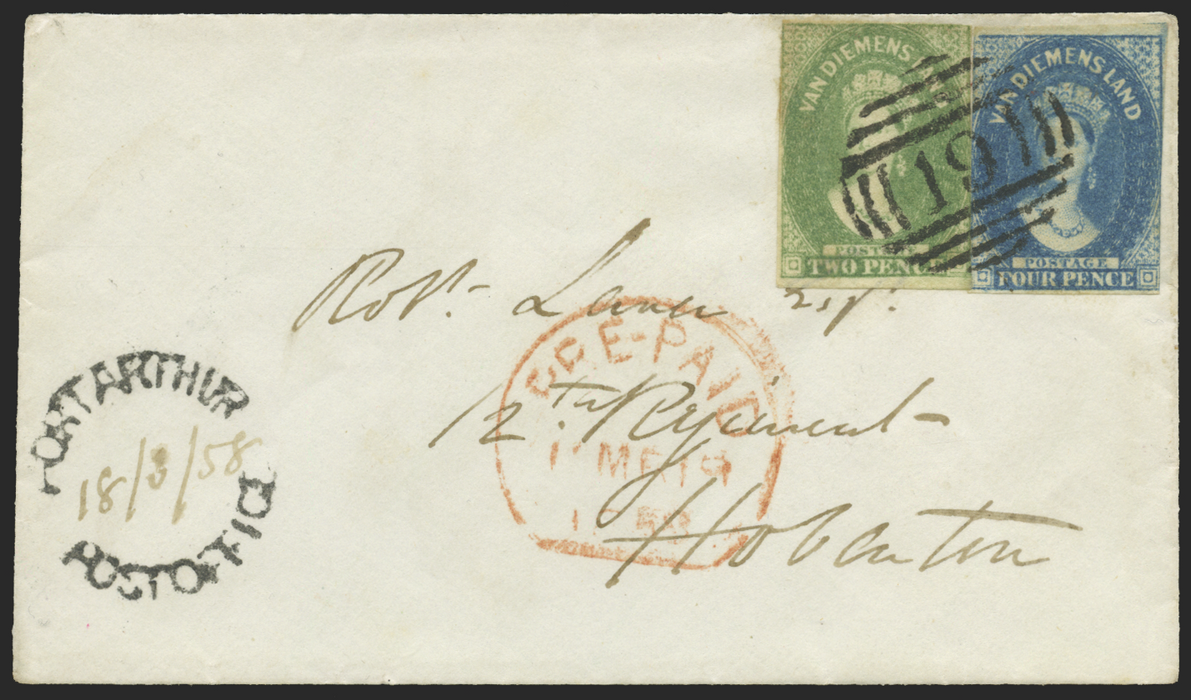 Australia Tasmania 1858 cover, SG32, 37
Australia Tasmania 1858 (18 Mar) small envelope from PORT ARTHUR to Hobart, franked at recently increased 6d inland rate (in force 1/3/58-31/12/58 only) by 1857-67 2d yellow-green (SG32) and 4d blue (SG37), each imperforate with touched to large margins and fine colour.
Tied together by superb '19' numeral, with exceptional strike of the very rare unframed 'PORT ARTHUR/POST OFFICE' circular despatch Hand Stamp at lower left, showing M/S date. Red 'PRE-PAID' arrival date stamp (MR 19 1858) at centre.
A beautiful cover in lovely fresh condition, and one of only five known with this desirable despatch Hand Stamp. It really is quite remarkable to find a cover of this nature looking so fresh and fine and a real philatelic treat!
Accompanied with a British Philatelic Association (BPA) certificate of authenticity (2014).
BUY NOW: Order online, by phone +44 (0)1534 639 998, or via email info@paulfrasercollectibles.com
Payment & Security
Your payment information is processed securely. We do not store credit card details nor have access to your credit card information.