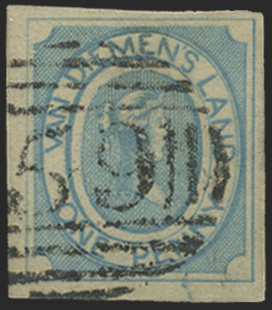 Australia Tasmania 1853 1d blue yellowish paper, SG2
£1250.00
Australia Tasmania 1853 1d blue on soft yellowish paper, position 14 on the sheet, SG2.
A fine used example with good to very large margins, crisply cancelled by "59" numeral of Launceston. A fine and attractive example with fresh colour.
Tasmania, an island just off south-eastern Australia, was one of the six British colonies that merged to form the Commonwealth of Australia in 1901. Van Diemen's Land was established in 1803 and was the second British colony after New South Wales in 1788. Van Diemen's Land was renamed Tasmania in 1856.
This was the first stamp issue of 1853 with a portrait of Queen Victoria and are known as "Couriers" after the Hobart Town Courier newspaper office, where they were printed. As an early colonial Australian stamp, they are keenly sought after by collectors and rarely found in such fine condition.
Accompanied with a Royal Philatelic Society (RPS) certificate of authenticity (1989).
The Stanley Gibbons catalogue value is £1,500.
BUY NOW: Order online, by phone +44 (0)1534 639 998, or via email info@paulfrasercollectibles.com
Payment & Security
Your payment information is processed securely. We do not store credit card details nor have access to your credit card information.