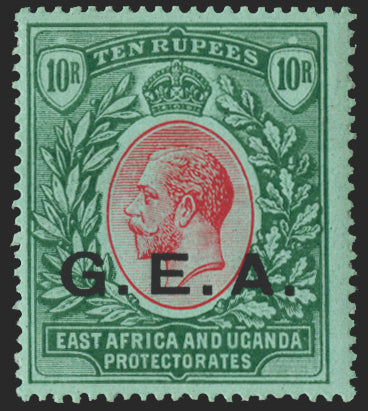 TANGANYIKA 1917-21 10r red and green/green 'G.E'A,', SG60
Tanganyika 1917-21 10r red and green/green 'G.E.A.' overprint, SG60.
A fine and fresh mint example with original gum.
After the Allied invasion of German East Africa in World War I, civilian mail was accepted by the Indian Army postal service using Indian stamps overprinted 'I.E.F.' Some offices, however, reverted to civilian control on 1 June 1917. They used these stamps from East Africa and Uganda, which then included the "G.E.A." overprints once they were ready.
BUY NOW: Order online, by phone +44 (0)1534 639 998, or via email info@paulfrasercollectibles.com
Payment & Security
Your payment information is processed securely. We do not store credit card details nor have access to your credit card information.