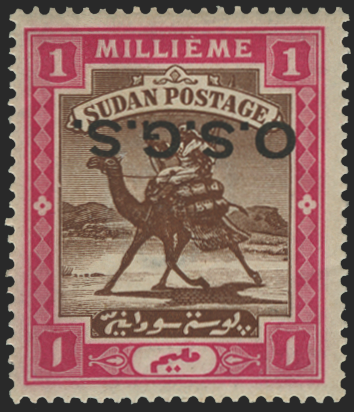 SUDAN 1902 1m brown and pink Official, error, SGO3c
Sudan 1902 1m brown and pink Official, type O1 overprint, ERROR OVERPRINT INVERTED, SGO3c.
A fine mint example with original gum. Trivial gum wrinkles, mentioned for accuracy, but of very fine appearance.
A rare error as only six panes of 30 originally existed.
Accompanied with a clear British Philatelic Association certificate of authenticity (1975).
The "Camel Postman" stamps of Sudan are considered by the famous printers De La Rue as the "most satisfactory" in their long history of stamp production and effectively became the country's symbolic emblem.
The overprint of "O.S.G.C." represents "On Sudan Government Service".
The Stanley Gibbons catalogue value is £350.
Payment & Security
Your payment information is processed securely. We do not store credit card details nor have access to your credit card information.