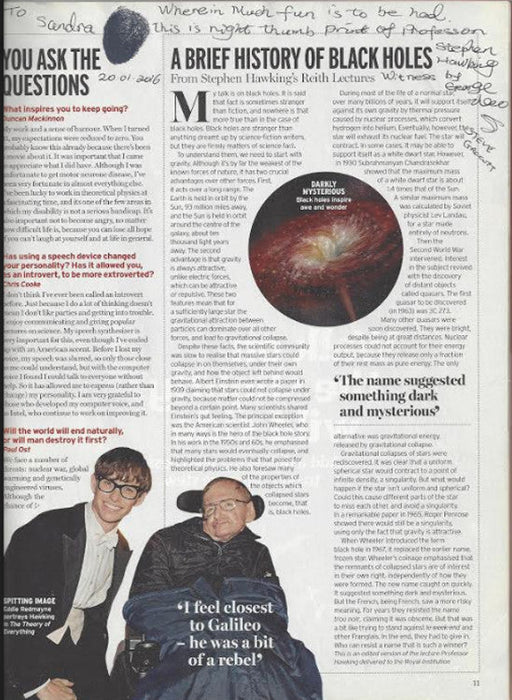 Stephen Hawking thumbprint-signed Radio Times
A Stephen Hawking thumbprint signed copy of the Radio Times (January 2016)
Find out more about this piece here 
Stephen Hawking was a young graduate studying physics at Cambridge University when he received a diagnosis of ALS, an incurable form of motor neurone disease. Doctors gave him two years to live.
In the face of this progressive illness, he continued his work, producing several brilliant papers on black holes. In 1988 he published A Brief History of Time, one of the most successful popular science books ever printed. Hawking became a major celebrity – easily the most famous scientist of his generation. He died in 2018, aged 76. 
By the 1970s, Stephen Hawking lost the ability to write by hand. As his fame grew following the publication of A Brief History of Time (1988), he began to receive requests for autographs.
He started signing with a thumbprint dipped in ink and placed on the page.  
This is a thumbprint signed copy of the Radio Times from January 2016, featuring a feature on Hawking's upcoming Reith Lecture.
The condition is good, with some creasing and scuffing to the cover and internal pages and a light crease to the autographed page. 
The inscription alongside reads: "To Sandra, wherein much fun is to be had. This is right thumb print of professor Stephen Hawking witness by George Zhoeo and Steve Growett." Dated 20/01/2016.
The original owner received the signature via her brother-in-law, who was one of Hawking's nursing staff. Included are several photographs of Hawking signing. 
Free global delivery. 28-day returns. 
Payment & Security
Your payment information is processed securely. We do not store credit card details nor have access to your credit card information.