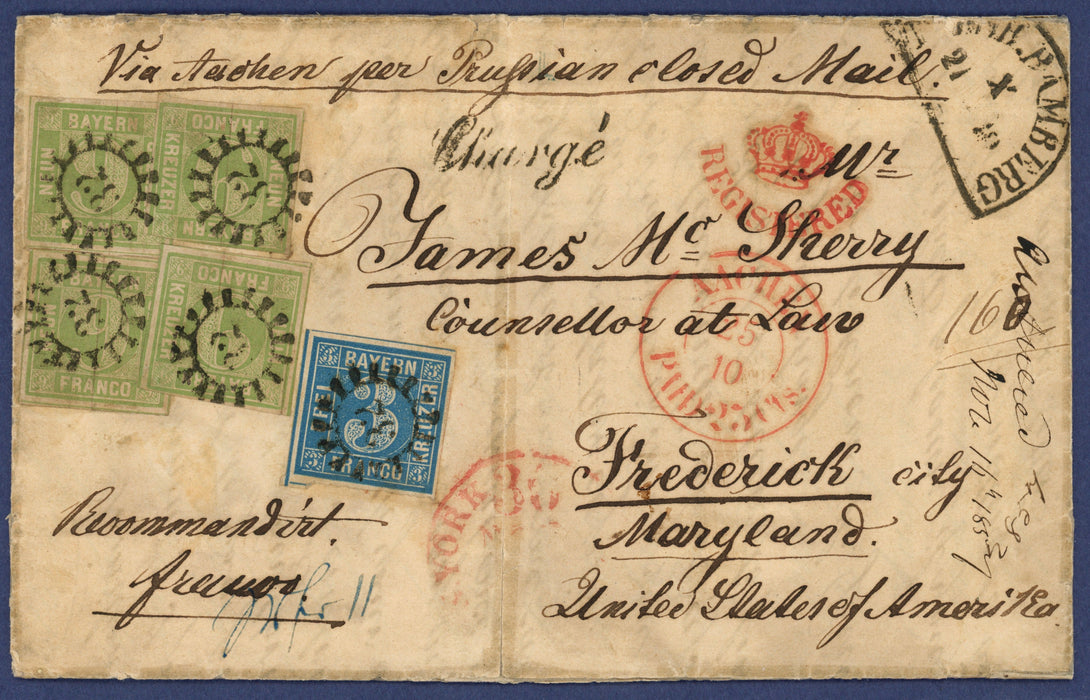 Bavaria 1857 letter from Bamberg, Bavaria to Frederick City, Maryland, US
Bavaria 1857 (October 18th) letter from Bamberg to Frederick City, Maryland, US endorsed 'Via Aachen per Prussian Closed Mail' and 'Recommandirt/Franco'.
Semi circle "BAHN. BAMBERG /X/21 10" datestamp and "Charge" handstamp struck in black. "AACHEN/25/10" transit circular date stamp and London "[CROWN]/REGISTERED" handstamp in red, together with New York transit circular date stamp.
According to the tariff of 1854 transportation by 'Prussian Closed Mail' should have been paid at 45kr. (6kr. German/Austrian mail, 39kr. onward) but the franking of the 3kr. and four 9kr. totals only the 39kr. onward postage. It was, however, forwarded without objection.
Three other letters from this correspondence are known which were also franked with this foreign rate and which were similarly forwarded. It is not known if the sender had "FREE" domestic privilege.
A remarkable, most attractive and fascinating piece of early postal history. Highly decorative cover with only minor faults and otherwise in an immaculate state of conservation.
Accompanied with two independent certificates of authenticity - 1988 Maria Brettl BPP certificate, recognised expert in German States, especially Bavaria and 2011 Franz Stegmüller certificate, recognised expert in Bavarian postal history from 1849-1875.
Payment & Security
Your payment information is processed securely. We do not store credit card details nor have access to your credit card information.