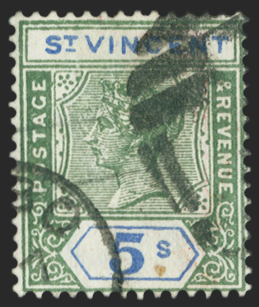 ST VINCENT 1899 5s green and blue forgery, SG75
St Vincent 1899 5s green and blue forgery, SG75.
A clever typographed forgery from the 'Ceylon' school (which anticipated the method of Sperati), on bleached out paper with genuine perforations, watermark and (inappropriate !) postmark, 'used' with part '(COLOM)BO' duplex cancel.
A couple of tone spots evident but still a fine example for this rare forgery.
Giovanni (Jean) de Sperati (14 October 1884 – 28 April 1957) was an Italian stamp forger. Even professional stamp authenticators of his time attested to the genuineness of his work and he was even considered by some as an artist, such was the quality of his forgeries. Sperati created what he called a Livre d'Or which he boasted of in his autobiography and which contained 239 favourable opinions as to the genuineness of his forgeries from numerous experts, including Dr. Edward Diena and the Royal Philatelic Society of London.
BUY NOW: Order online, by phone +44 (0)1534 639 998, or via email info@paulfrasercollectibles.com
Payment & Security
Your payment information is processed securely. We do not store credit card details nor have access to your credit card information.