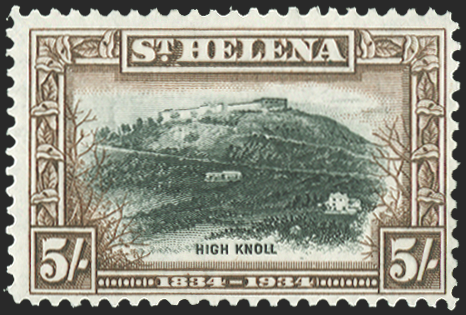 ST HELENA 1934 Centenary 5s black and chocolate, SG122
St Helena 1934 Centenary 5s black and chocolate, SG122.
A fresh mint example with large part original gum (typical minor gum wrinkling not detracting from overall desirable quality).
This stamp comes from St. Helena's first commemorative set issued in 1934. This was a set of 10 values up to 10 shillings commemorating the centenary of British colonisation (1834-1934). The issue has since become recognised as one of the most attractive and well-designed stamp issues ever made by any British colony.
This 5 shilling stamp features High Knoll, an old fort in the hills above the capital, Jamestown.
The Stanley Gibbons catalogue value is £100.
BUY NOW: Order online, by phone +44 (0)117 933 9500, or via email info@paulfrasercollectibles.com
Payment & Security
Your payment information is processed securely. We do not store credit card details nor have access to your credit card information.