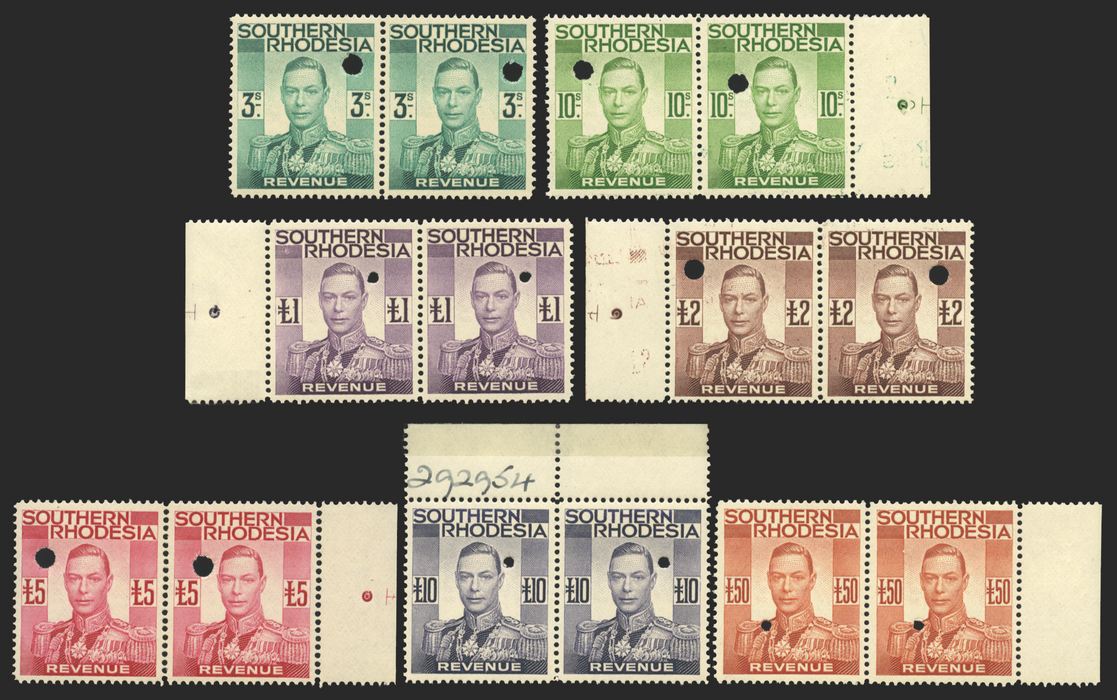 SOUTHERN RHODESIA 1937 3s, 10s to £10, £50 Revenues
Southern Rhodesia 1937 King George VI large format Revenue 3s, 10s to £10, £50, seven values, printer's file examples with punched security holes, in horizontal pairs (marginal except 3s).
An attractive set, fresh and unmounted mint with full original gum. The 10s to £5 also have side marginal guide dots, the £10 upper marginal with M/S invoice number. 
Revenue stamps were used exclusively by the government to collect taxes, duties and fees.
The design is based on a photo by Bertram Park and was engraved by J A C Harrison of Waterlow after adding the Admiral's uniform.
Waterlow & Sons Limited of London, prepared both imperforate and perforate proofs – "The Printer's File Proofs". These were stored in the Waterlow basement during the war and were damaged by water, following the damage caused by the bombing of London during the 2nd World War.
BUY NOW: Order online, by phone +44 (0)117 933 9500, or via email info@paulfrasercollectibles.com
Payment & Security
Your payment information is processed securely. We do not store credit card details nor have access to your credit card information.