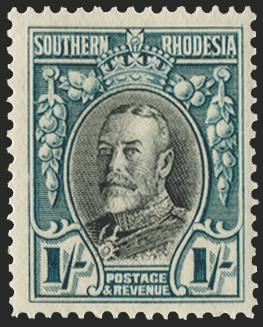 SOUTHERN RHODESIA 1931-37 1s black and greenish blue, SG23b
Southern Rhodesia 1931-37 1s black and greenish blue, perforations 14, SG23b.
A very fine unmounted mint example with full original gum.
A very scarce King George V stamp hardly ever seen in unmounted mint condition.
The Southern part of Rhodesia, previously administered by the British South Africa Company, was annexed by the British Government and granted the status of a self-governing colony from 1 October 1923. Stamps were issued under "Southern Rhodesia" between 1924-1953, together with one definitive set issued in 1964 also.
In 1964, after Northern Rhodesia became independent as Zambia, Southern Rhodesia unilaterally declared itself independent as "Rhodesia". This status was not internationally recognised until 1979 when the Constitution of Zimbabwe-Rhodesia was passed and Zimbabwe was recognised as independent in 1980.
BUY NOW: Order online, by phone +44 (0)1534 639 998, or via email info@paulfrasercollectibles.com
Payment & Security
Your payment information is processed securely. We do not store credit card details nor have access to your credit card information.