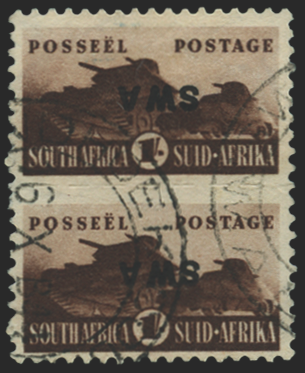 South West Africa 1943-44 War Effort 1s brown error, SG130c
South West Africa 1943-44 War Effort "Tank Corps" 1s brown (reduced size), type 31 overprint, vertical pair, error OVERPRINT INVERTED, SG130c.
A fine used example with large part "Windhoek Counter" circular date stamp, dated '16 X 44'.
A very scarce stamp error.
Accompanied with a British Philatelic Association (BPA) certificate of authenticity (2016).
BUY NOW: Order online, by phone +44 (0)117 933 9500, or via email info@paulfrasercollectibles.com
Payment & Security
Your payment information is processed securely. We do not store credit card details nor have access to your credit card information.