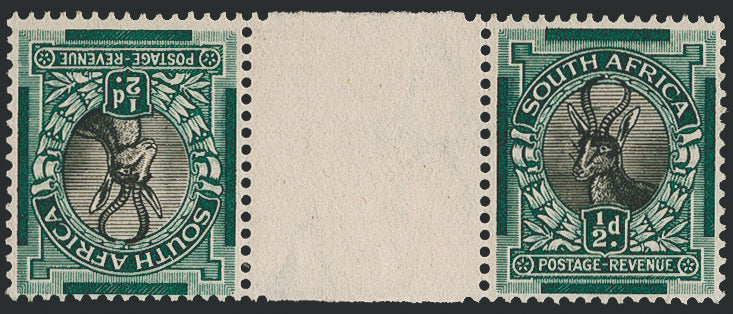 SOUTH AFRICA 1930-45 ½d black and green 'SUIDAFRIKA', variety, SG42b var
South Africa 1930-45 ½d black and green, 'SUIDAFRIKA' one word, rotogravure printing, tete-beche horizontal interpane pair, SG42b var.
A fine and fresh mint pair with large part original gum.
A rare and spectacular multiple emanating from uncut booklet sheets.
The majestic image of the South African antelope, the "Springbok" has captured the hearts of collectors for generations making these stamp issues one of the most popular areas of collecting and study and this is one of the key varieties of this important stamp.
Stanley Gibbons catalogue value: £1,400+.
BUY NOW: Order online, by phone +44 (0)117 933 9500, or via email info@paulfrasercollectibles.com
Payment & Security
Your payment information is processed securely. We do not store credit card details nor have access to your credit card information.