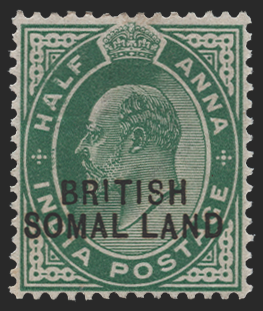 Somaliland Protectorate 1903 ½a green variety,, SG25d
Somaliland Protectorate 1903 King Edward VII ½a green, type 1 overprint, variety "SOMAL.LAND", from lower pane R6/7 or R7/5, SG25d.
A fine mint example with large part original gum.
This example from R6/7 ("B" over "OM"), exceptionally showing complete omission of the stop and as such an extremely rare printing variety.
Provenance: Ex Inglefield-Watson (Spink 3/10/07, lot 1541 (part)).
Stamps of India were used at the two post offices (Barbara and Zeila) from 1 January 1887 to 1903. The Protectorate Post Office was then established on 1 June 1903, when control of British Somaliland was transferred from the Indian Government to the British Foreign Office.
BUY NOW: Order online, by phone +44 (0)1534 639 998, or via email info@paulfrasercollectibles.com
Payment & Security
Your payment information is processed securely. We do not store credit card details nor have access to your credit card information.