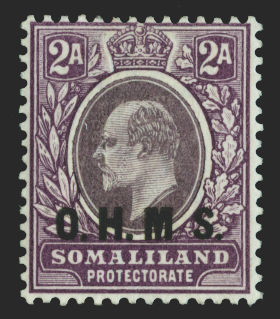 SOMALILAND PROTECTORATE 1904-05 2a dull and bright purple Official, variety, SGO12a
Somaliland Protectorate 1904-05 2a dull and bright purple Official, watermark CA, type O3 overprint, variety 'No stop after M, SGO12a.
A fine and fresh mint example with large part original gum. A minor gum bend present mentioned purely for accuracy, as does not detract from what is a fine example of this major rarity and the first time we have ever handled.
Accompanied with a clear British Philatelic Association (BPA) certificate of authenticity (2012).
The Stanley Gibbons catalogue value is £3,250.

BUY NOW: Order online, by phone +44 (0)1534 639 998, or via email info@paulfrasercollectibles.com
Payment & Security
Your payment information is processed securely. We do not store credit card details nor have access to your credit card information.