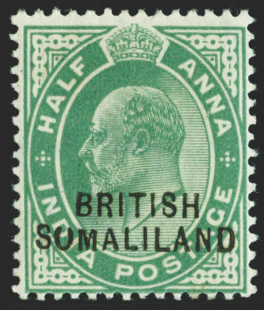 SOMALILAND PROTECTORATE 1903 ½a green, variety, SG25c
Somaliland Protectorate 1903 King Edward VII ½a green, variety 'SUMALILAND' (R2/9, upper pane), SG25c.
A fine and fresh mint example with original gum.
A very rare variety with only 200 maximum possible.
Payment & Security
Your payment information is processed securely. We do not store credit card details nor have access to your credit card information.