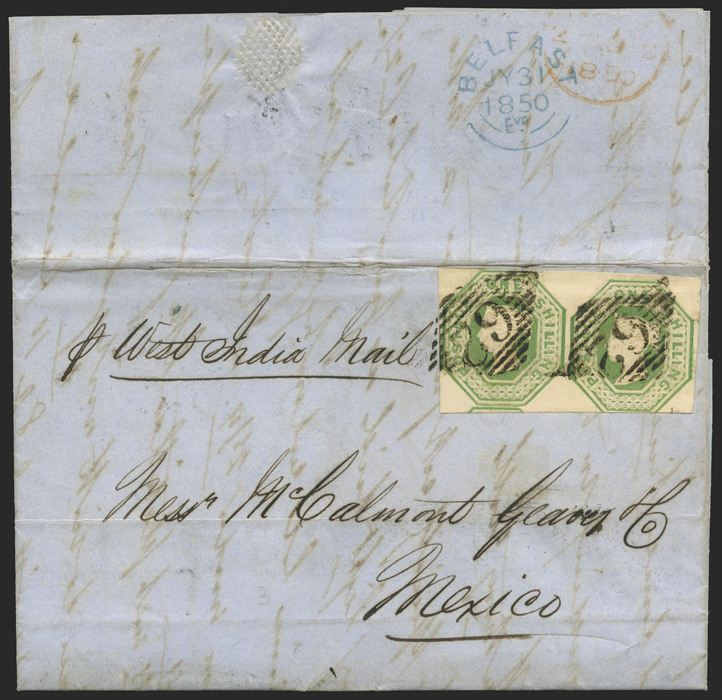 Great Britain 1850 Overseas Mail, Belfast to Mexico, SG55
Great Britain 1850 overseas mail, Belfast to Mexico, SG55.
Very fine entire envelope sent from Belfast to Mexico bearing a horizontal pair of 1s green's (SG 55, Die W.W.2). The left hand example is touched at top and the right hand stamp touched at foot, both tied by crisply struck black Belfast "62" Irish numerals.
Endorsed at top left "P West Indies Mail", sent per steamer "RMS Trent" from Southampton to St Thomas and "RMS Clyde" from St Thomas to Vera Cruz. Back stamped by a blue Belfast circular date stamp for JY.31.1850. and a part red arrival circular date stamp for SP.2.1850.
Scarce and attractive overseas destination entire envelope, unusually underpaid at 2 shillings and not the correct rate of 2s3d that was in use from 1840 to 1863.
GB Specialised Catalogue No: H1(2).
The Stanley Gibbons catalogue value for a single used example of the 1 shilling green is £1,000.
BUY NOW: Order online, by phone +44 (0)1534 639 998, or via email info@paulfrasercollectibles.com
Payment & Security
Your payment information is processed securely. We do not store credit card details nor have access to your credit card information.