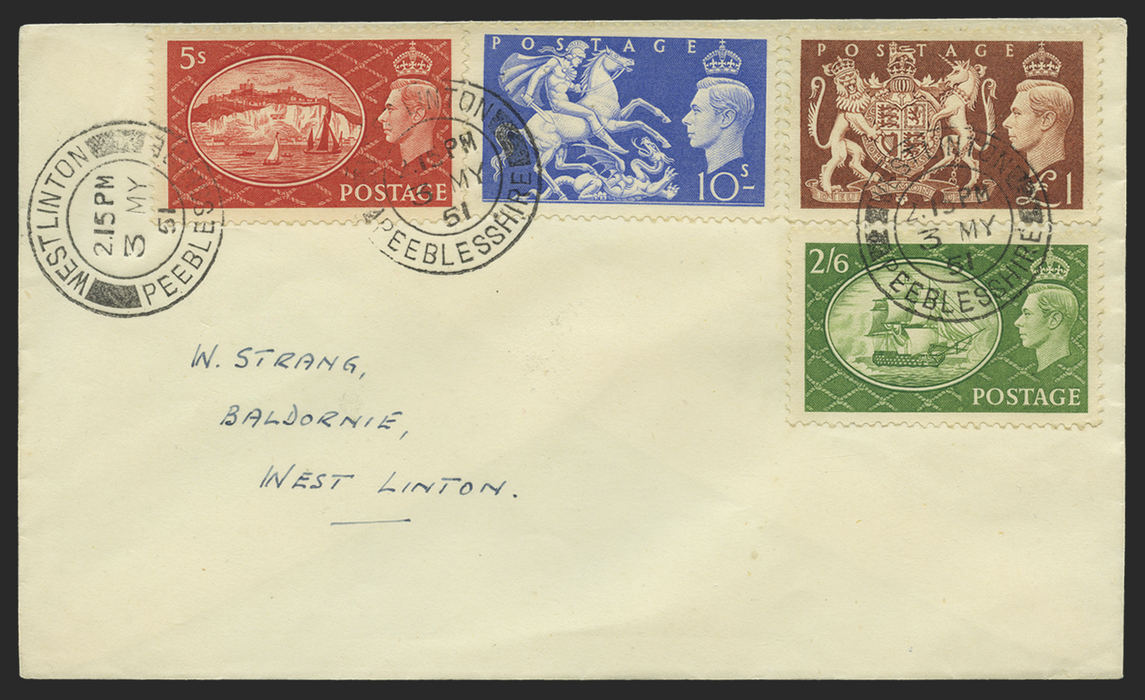 Great Britain 1951 2s6d-£1 "Festival" High Values, First Day Cover, SG509/12
Great Britain 1951 2s6d-£1 "Festival" High Values First Day Cover, SG509/12.
A superb used set of four on cover neatly cancelled by crisp Westlinton/Peeblesshire double ring date stamps for the first day of issue MY.3.1951. An exceptionally clean and fresh cover.
This beautifully designed set of King George VI high value stamps was issued on 3 May 1951 to celebrate the centenary of the Great Exhibition of 1851.
The Festival of Britain in 1951 aimed to illustrate the British contribution to civilisation past, present and future in the arts, science and technology, and industrial design.
Pressure was put on the Post Office to issue a special set of stamps to celebrate the event.
12 artists were invited to submit their ideas for the designs. The four stamps finally chosen depicted HMS Victory (2s6d), White Cliffs of Dover (5s), St. George and the Dragon (10s) and the Royal Court of Arms (£1).
They are a lovely set of stamps. It is not surprising they have become one of the most popular sets of British commemorative stamps ever issued. The opportunity to own the set on such a fine quality first day cover is a special treat indeed.
The Stanley Gibbons catalogue value is £950.
Payment & Security
Your payment information is processed securely. We do not store credit card details nor have access to your credit card information.