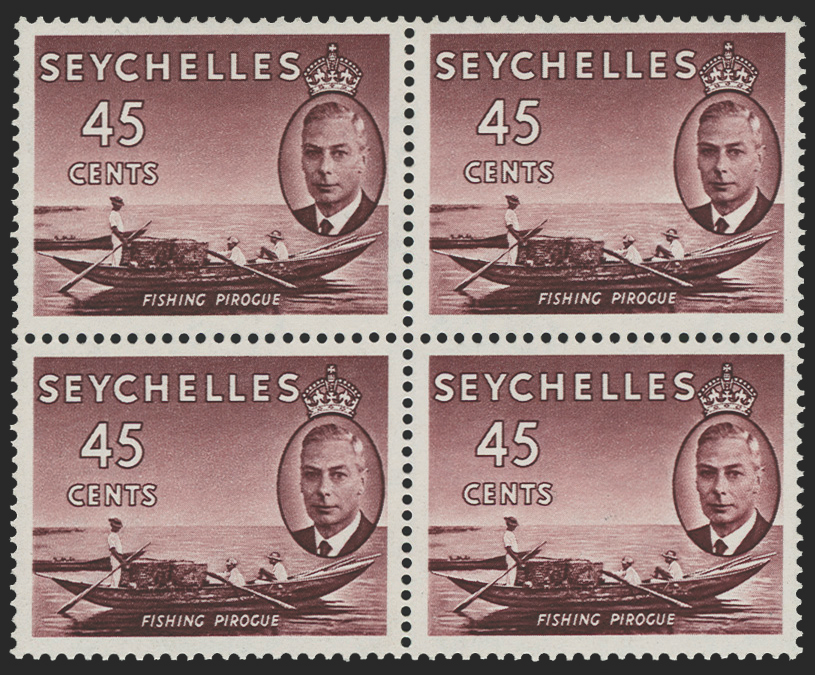 Seychelles 1952 45c purple-brown St Edward's Crown error, SG166/b
Seychelles 1952 45c purple-brown "Fishing Pirogue" St Edward's Crown error, block of 4, showing watermark error W9b "St Edward's Crown" on left pair, SG166/b.
A very fine unmounted mint block with full original gum.
A very scarce block with the watermark error present, particularly in such pristine unmounted mint condition.
This was the first King George VI set issued by the Seychelles and deviated from the tradition of previous stamps which merely portrayed the British monarch. Furthermore, the traditional use of the words "POSTAGE" were not included in this issue.
Instead, the first set of stamps issued for King George VI's reign provided vivid photographic vignettes of home. This marked the beginning of a new preference for pictorial stamps and the golden era of wonderful stamp designs, bringing the world to life.
BUY NOW: Order online, by phone +44 (0)1534 639 998, or via email info@paulfrasercollectibles.com
Payment & Security
Your payment information is processed securely. We do not store credit card details nor have access to your credit card information.