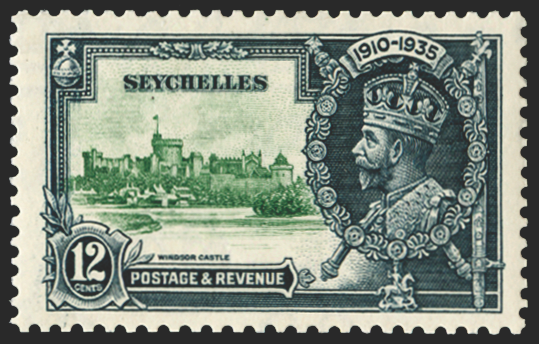 SEYCHELLES 1935 Silver Jubilee 12c green and indigo variety, SG129b
Seychelles 1935 Silver Jubilee 12c green and indigo, variety 'Short extra flagstaff' from vignette plate '2', R2/1, SG129b.
A lovely fresh mint example with large part original gum.
The total printing was only 1,163 sheets, from six vignette plates, with this variety not yet found present in the large first printing of 575 sheets.
The Stanley Gibbons catalogue value is £425.
BUY NOW: Order online, by phone +44 (0)117 933 9500, or via email info@paulfrasercollectibles.com
Payment & Security
Your payment information is processed securely. We do not store credit card details nor have access to your credit card information.