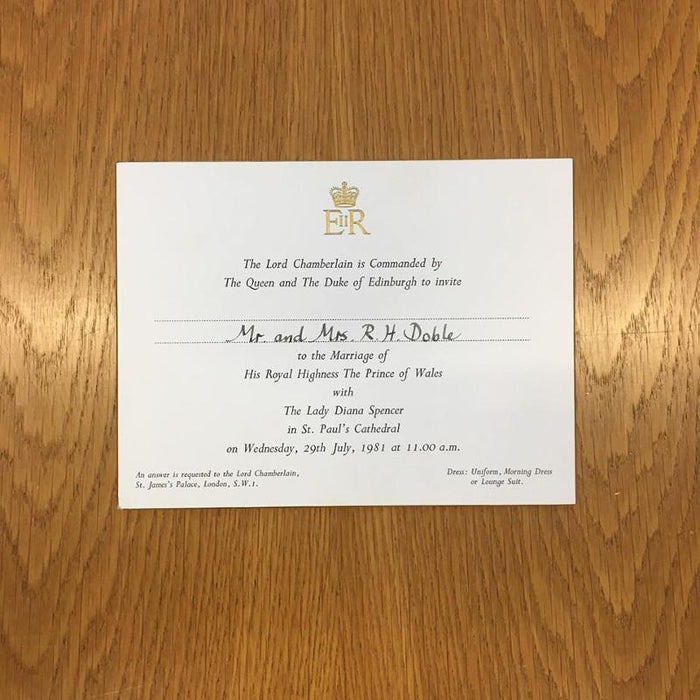 1981 Charles & Diana Royal Wedding collection
A set of invites, passes and ceremonial booklets from Prince Charles' 1981 wedding to Princess Diana
Accompanied by a letter from the Office of the Lord Chamberlain
A fascinating and well preserved insight into the "Wedding of the Century" from a guest's perspective
Charles and Diana's 1981 wedding was one of the most widely watched TV broadcasts of all time, with billions tuning in from all around the world. Sadly their marriage was not a happy one and ended in a split in 1992. They were divorced in 1996. Diana was tragically killed in a car crash in 1997.
In the years hence, memorabilia associated with Charles and Diana (and particularly items relating to the wedding) have become highly valuable. Demand has increased following the wedding of their sons Prince William (to Kate Middleton in 2011) and Prince Harry (to Meghan Markle in 2018).
A couple (one of who was an employee of the Duchy of Cornwall) who attended the 1981 Royal Wedding kept these documents as a memento of the day.
The set consists of:
A gold bordered invitation (in its original monogrammed envelope)
Car parking pass
Two tickets for entry to St Paul's Cathedral
Three sheets displaying information on arrival times, dress code and parking
Two large "Ceremonial" booklets, laying out the order of the day
An order of service containing hymns, prayers and the text of the wedding vows
A letter from the Lord Chamberlain's office with arrangements for post-wedding refreshments
This is the most comprehensive set of guest documentation we've come across from the 1981 Royal Wedding. A rare and intriguing collection with huge eye appeal. 
Free global shipping. 28-day returns. Certificate of Authenticity and our Lifetime Moneyback Guarantee of Authenticity included. 
Payment & Security
Your payment information is processed securely. We do not store credit card details nor have access to your credit card information.