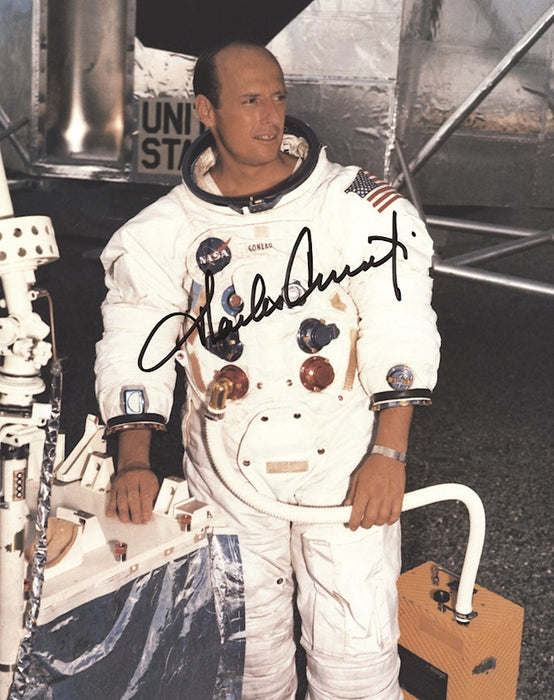 Pete Conrad signed photograph
Dutch Auction Day 5 Price: £297.00
Dutch Auction Day 4 Price: £347.00
Dutch Auction Day 3 Price: £396.00
Dutch Auction Day 2 Price: £446.00
Dutch Auction Starting Price: £495.00
A signed photograph of Apollo 12 astronaut Pete Conrad, the third man on the moon
Charles "Pete" Conrad Jr. (1930 – 1999) was an American aviator and NASA astronaut who became the third man to walk on the moon during the Apollo 12 mission in November 1969.

Conrad had previously flown into space as a crew member of the Gemini 5 and Gemini 11 missions, and later served as Commander of Skylab 2, the first crew to board the Skylab space station in 1973.
A near full length, colour photograph of Pete Conrad wearing his spacesuit, signed in bold black pen ink across his image.
Photograph measures 10" by 8".
Provenance: ex Stanley Gibbons.
Free global shipping. 28-day no quibble returns. Certificate of Authenticity and our Lifetime Moneyback Guarantee of Authenticity included
BUY NOW: Order online, by phone +44 (0)1534 639 998, or via email info@paulfrasercollectibles.com
Payment & Security
Your payment information is processed securely. We do not store credit card details nor have access to your credit card information.