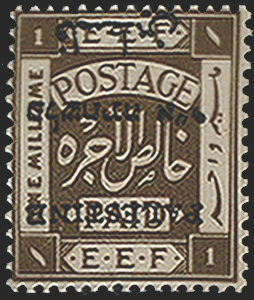 PALESTINE 1920-21 1m sepia (UNUSED), SG30a
Palestine 1920-21 1m sepia, SG30a, type 5 ('Jerusalem II') overprint, perforations 15x14, ERROR OVERPRINT INVERTED (and misplaced, with 'English at top').
A fine unmounted mint example with full original gum. A delight to find in this quality.
A spectacular error, of which only one sheet existed and much fewer surviving examples.
Accompanied with a British Philatelic Association (BPA) certificate of authenticity (2011).
The Stanley Gibbons catalogue value is £450.
Payment & Security
Your payment information is processed securely. We do not store credit card details nor have access to your credit card information.