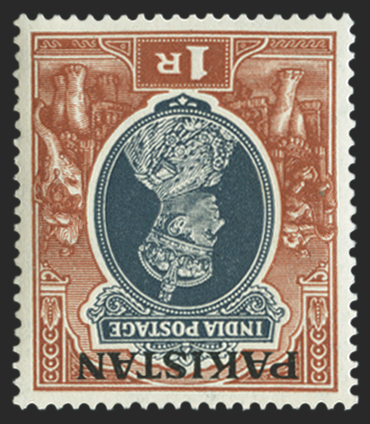 PAKISTAN 1947 1r grey and red-brown variety, SG14w
Pakistan 1947 1r grey and red-brown, type 2 overprint on India, variety watermark inverted, SG14w.
A very fine unmounted mint example with full original gum.
Despite the relative scarcity of this inverted watermark variety of the first postage stamps of Pakistan, its catalogue value remains incredibly modest.
On 14 August 1947, after a vast and violet upheaval, the predominantly Muslim areas of India became West and East Pakistan. Until 1 October, Indian stamps were used and can only be identified based on their cancellation. From 1 October, Indian stamps were hand-stamps and overprinted with "PAKISTAN".
Payment & Security
Your payment information is processed securely. We do not store credit card details nor have access to your credit card information.