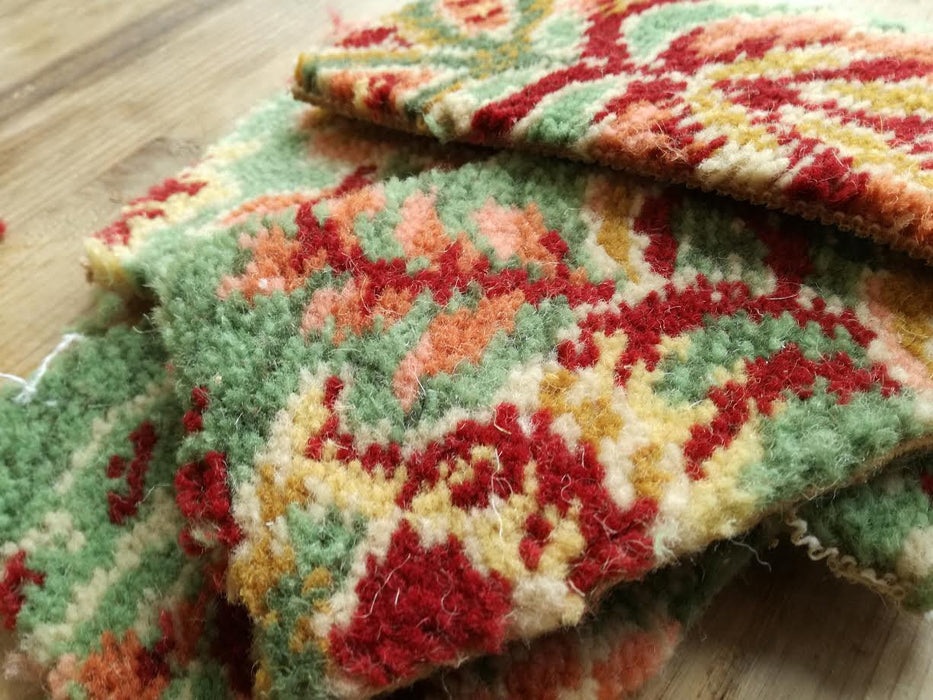 Original carpet from Titanic movie
Original film prop: 7 inch x 7 inch piece of carpet from the Titanic movie
The 1997 Hollywood Blockbuster Titanic, directed by James Cameron, is the 2nd highest grossing movie of all time, netting $2.2 billion at the box office.
Making stars out of actors Leonardo DiCaprio and Kate Winslet, the film went on to win a record 11 Oscars.
Titanic memorabilia is proving to be popular with collectors:
Winslet's famous red dress sold at auction in 2012 for $330,000, DiCaprio's jacket from the 'King of the World' scene sold for $60,000, and even director Cameron's hand drawn picture of a naked Winslet as 'Rose' auctioned for $17,000.
For those of us with less deep pockets we're delighted to offer these original movie props - a 7 inch x 7 inch square of original carpet from the first class dining room featured in the Titanic movie.
The carpet appears in the scene where Jack (DiCaprio) joins Rose (Winslet) and the other first class passengers for dinner.
In his pursuit of authenticity Cameron insisted that the carpet was made by the Scottish carpet manufacturer Stoddard, the maker of the original carpet that sailed on the Titanic's maiden voyage in 1912.
This makes for a wonderful piece of original movie memorabilia for a Titanic fan.

Limited edition of just 7.

Free global shipping. 28-day returns. Certificate of Authenticity and our Lifetime Moneyback Guarantee of Authenticity included.
BUY NOW: Order online, by phone +44 (0)1534 639 998, or via email info@paulfrasercollectibles.com
Payment & Security
Your payment information is processed securely. We do not store credit card details nor have access to your credit card information.