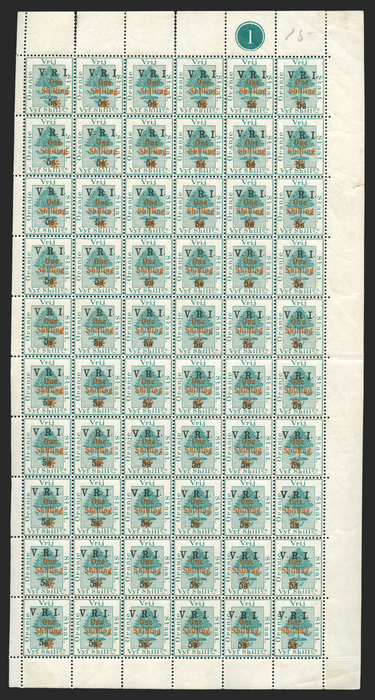 South Africa Orange Free State 1902 1s on 5s green variety, SG138a/b
South Africa Orange Free State 1902 1s on 5s green, type 37 surcharge on third 'V.R.I.' setting (with type 33 'Thick V' on six stamps, positions 5, 17, 23, 39, 45, 48), complete upper right pane of 60 (6x10) with plate number '1', showing variety 'Short top to 5' on position 2, SG138a/b.
 A very fine and fresh complete upper pane, unmounted mint with full original gum (hinge mark in margin only). A little marginal separation, as often seen, but a spectacular and rare pane, neatly presented on exhibition page.
The Stanley Gibbons catalogue value is £814+.

The Second Boer War (1899-1902) brought a British victory and the annexation of both independent Boer Republics. British Occupation stamps of the Orange Free State were created in 1900 by overprinting on the Orange Free State issues "V.R.I." ( Victoria Regina et Imperatrix), and surcharging them.
BUY NOW: Order online, by phone +44 (0)117 933 9500, or via email info@paulfrasercollectibles.com
Payment & Security
Your payment information is processed securely. We do not store credit card details nor have access to your credit card information.