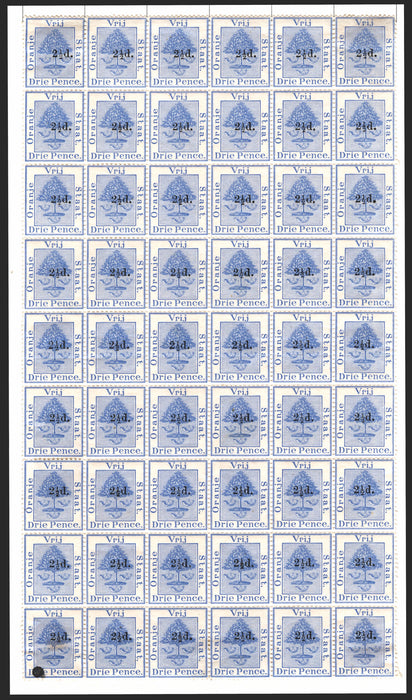 South Africa Orange Free State 1892 2½d on 3d ultramarine, SG67
South Africa Orange Free State 1892 (Oct) 2½d on 3d ultramarine, type 8 surcharge, two large multiples which together have enabled the plating of most of the upper panes of the SECOND SETTING OF 240, comprising an interpane block of 47 (12x4, lacking the bottom right stamp) from the top four rows of the sheet and a block of 54 (6x9) being an upper right pane less the top row, SG67.
Fine condition with original gum and with very fresh colour (most stamps are unmounted mint). Both without external margins, and odd minor imperfections (one stamp in the second block with an ink spot).
Unique and fascinating multiples, in remarkably fine condition. Neatly mounted on two fully annotated exhibition pages.
Stanley Gibbons catalogue value: £2,222+.
BUY NOW: Order online, by phone +44 (0)1534 639 998, or via email info@paulfrasercollectibles.com
Payment & Security
Your payment information is processed securely. We do not store credit card details nor have access to your credit card information.