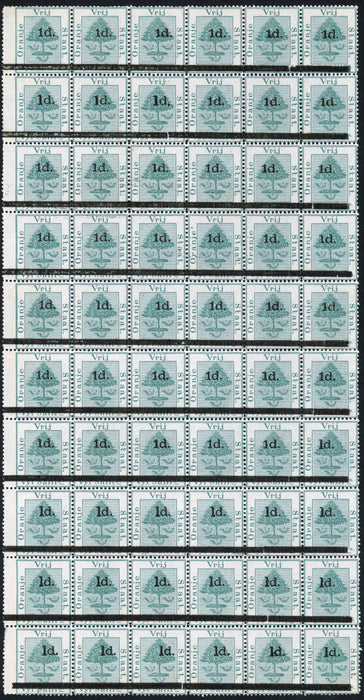 South Africa Orange Free State 1881 1d on 5s green, SG22/5
South Africa Orange Free State 1881 (19 May) 1d on 5s green, intact right pane of 60 (6x10) with margin at left, showing the right half of the second setting, with types 'b' (x32), 'c' (x6), 'd' (x21) and 'e' (x1, at R2/2) se-tenant, SG22/5.
A fine and fresh block with large part original gum. Most stamps are unmounted mint. Odd minor imperfections as to be expected, which are mentioned purely for accuracy as overall condition is "very fine".
A fascinating showpiece of the highest philatelic importance and rarity. It is believed to be unique in private hands.
Accompanied with chart showing arrangement of the types.
Stanley Gibbons catalogue value: £6,010++.
BUY NOW: Order online, by phone +44 (0)117 933 9500, or via email info@paulfrasercollectibles.com
Payment & Security
Your payment information is processed securely. We do not store credit card details nor have access to your credit card information.